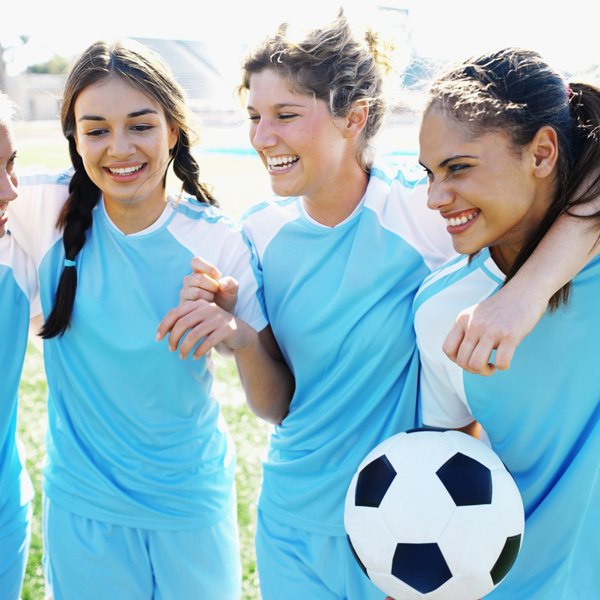 Self-esteem can give teenagers the ability to resist peer pressure, deal with uncertainty, tackle new activities and handle disappointments, according to the Building Strong Families Program of the University of Missouri Extension. Discover ways to build your teenager's self-worth to produce a positive outlook and the confidence to become an independent adult.
Show Respect
Instill a sense of self-esteem in your teenager by showing respect when you address him. Listen to your teen's fears and concerns without dismissing them as childhood angst. Give your teen a voice in the family decision-making to show that you value his feelings and opinions.
Set an Example
Teenagers can discover what it's like to have a healthy sense of self-worth by following a role model. According to Kids Health from Nemours, you should be conscious of your attitude and actions, particularly when your teen is around. Set a good example by addressing problems with a positive outlook, asserting yourself politely in public and displaying self-confidence. Your teenager might develop low self-esteem if she consistently sees pessimistic family members who doubt their abilities and react to personal and professional setbacks with negativity.
Encourage Activities
Allow your teenager to build self-esteem by participating in extracurricular activities. According to the Building Strong Families Program, pastimes such as sports not only teach your child how to work diligently to reach goals, but also provide a sense of identity. Being part of a team can also provide camaraderie and boost teenage self-worth as the teammates work together for a common goal. Encourage your teen to participate in competitions and contests to increase his resiliency as he learns to face success with gratitude and failure with optimism.
Create Affirmations
Give your child a dose of self-esteem by filling a jar with slips of paper featuring positive affirmations. Help your teenager write positive notes that tout her accomplishments, strengths and admirable personality traits. Encourage your teen to pull a slip every day to read a statement such as, "My mom loves me for who I am," "I've worked hard to get better grades this year" or "I make my dog happy by feeding and walking him" to help her smile as she faces the day.
Seek Help
If your teenager has an extreme lack of self-esteem that generates severe self-doubt, depression or mentions of suicide, seek help from a mental health professional or doctor, according to the U.S. Department of Education. The professional might be able to uncover deeper causes for the feelings of low self-worth or suggest medication or a treatment plan to address the symptoms.