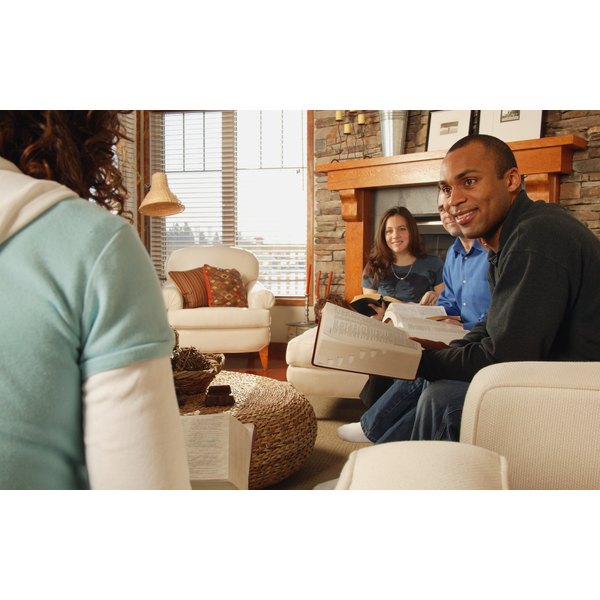 It takes some considerable effort to develop a healthy family structure, and it takes continued focus to maintain one. The investment of time to ensure that each member of your family is armed with the tools necessary to be productive individuals and supportive family members is invaluable.
Meet your family's basic needs by providing adequate food, clothing and shelter. According to Maslow's hierarchy of needs, it is difficult to lead a healthy life if your basic needs--usually physiological--are not met.

Address your family's emotional needs. Check in periodically with each family member to see what's going on in his life and how he's feeling about things. This is usually most effective in a one-on-one setting that can be done during a car ride to the grocery store or to pick up a treat. This process can be supported by you sharing your experiences as feelings to model equal communication. Create an environment that fosters open communication, self-assuredness and flexibility by letting your family members know that they are free to voice their opinions and feelings any time in a respectful manner.

Develop a family concept that describes your goals as a family. For example: To be healthy, happy, loving and full of adventures. To support this concept, a family would attend the gym together three times per week, have weekly family check-in meetings over breakfast every Saturday and plan a vacation centered around an adventurous activity (i.e. skiing, rock climbing, etc).

Teach your family values and tolerance of other people, their values and their beliefs. Doing so prepares your family for interacting with people who may be different than they are. As you move forward as a family, this acceptance will open doors for meeting new people, making friends and developing a supportive network of people in your neighborhood or your community.

Create a time and space that is safe for your family to communicate. They should feel comfortable seeking love, support and empathy from each other or as a whole. Host regular family meetings to discuss specific topics like household management or chores or safety inside and outside the home. However, you should also allow them the freedom to discuss what is going on in their lives and any issues they want to be addressed. Encourage them to schedule special meetings if an issue comes up that needs more immediate attention. Having these meetings regularly sets the standard that the family should respect this time and use it productively.