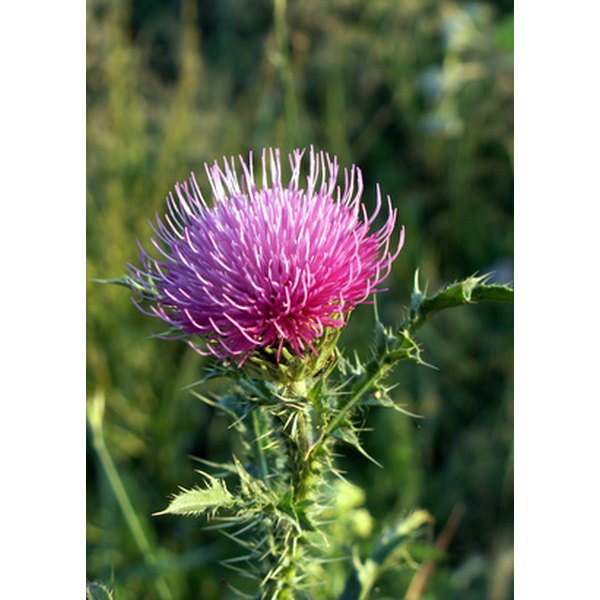 Milk thistle's medicinal use goes back more than 2,000 years. In the 17th century, it was used for opening obstructions of the liver and spleen as well as to treat jaundice. This traditional use spurred modern researchers to investigate the herb's healing potential. Its active ingredient is the flavonoid silymarin, itself composed of silibinin, silidianin and silicristin. Today, milk thistle is thought to protect the liver from toxins, potentially reduce risk of gallstones, treat alcoholic and viral hepatitis, and even counteract poisoning.
Improved Survival Rate
Several studies have found that milk thistle improves the survival rate of people with alcoholic or non-alcoholic liver cirrhosis. According to the NYU Langone Medical Center, two different double-blind, placebo-controlled studies, both over four years, found reductions in mortality. One of these studies, in which 170 people participated, found a 58 percent survival rate as compared to 38 percent in the placebo group, a difference considered statistically significant. The other, in which 172 people participated, returned similar results but "just missed the conventional cutoff for statistical significance."
Protection from Liver-Damaging Medications
Certain drugs, both prescribed and over the counter, have the potential to damage or inflame the liver. Among them are acetaminophen, alcohol, phenothiazines and phenytoin. According to the NYU Langone Medical Center, preliminary evidence suggests that milk thistle may protect against liver toxicity caused by these drugs. "However, according to a 12-week, double-blind study of 222 people, milk thistle does not seem to prevent liver inflammation caused by the Alzheimer's drug tacrine," also known as Cognex.
Other Potential Effects
The University of Maryland Medical Center suggests milk thistle as a supplemental treatment for at least two different long term conditions. For radiation damage, it suggests a done of 80 to 200 mg standardized extract one to three times per day. Its use here is as an antioxidant and to protect the liver. For lung cancer, it suggests 80 to 160 mg two to three times daily "for detoxification support." Amanda Gryskewicz, Amy Sieklicki and Stefanie Macri of Wilkes University write that "in recent years, it has been shown that both silymarin and silibinin are also useful in treating several types of cancer, including cancers of the prostate, breast, ovaries, colon, lung, skin, and bladder." They note also that extracts of milk thistle are under study concerning potential chemopreventative properties as well as the possibility of mitigating chemotherapy side effects.
Side Effects
Milk thistle is currently held to be "virtually devoid of any side effects and may be used by most people, including pregnant and breast-feeding women," according to the University of Michigan Healthwise Knowledgebase. This is corroborated by its "extensive use as a food." The NYU Langone Medical Center notes that no animal studies have shown negative effects, not even "when high doses were administered over a long period of time," though a 1992 study of 2,637 human participants did reveal "rare occasions of severe abdominal discomfort." More commonly in that study, a low incidence of side effects occurred, mainly of mild gastrointestinal disturbance.
Drug Interactions
Though no drug interactions are currently known, The NYU Langone Medical Center points out that, according to one report, silibinin can inhibit an enzyme that plays a role in the activity of oral contraceptives and other drugs, potentially reducing their effectiveness.