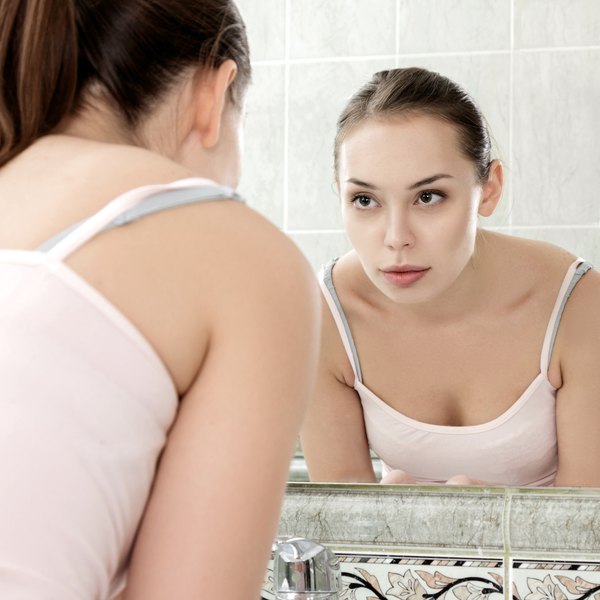 According to homeopathic practitioners, the external eruption of acne is a sign of an internal disorder within the body. Unlike modern allopathic doctors, naturopathic doctors believe that acne should not be treated with topical creams and ointments, and instead believe the skin disorder should be treated holistically. This triggers the body's natural healing forces, with the help of symptom-specific homeopathic remedies. Any type of skin infection should be watched carefully for signs of blood poisoning and all treatment decisions should be discussed with your health care practitioner.
Antimonium Tartaricum
Individuals that experience large inflamed acne pustules that are tender and very painful to the touch may benefit from homeopathic antimonium tartaricum. A white coated tongue is another good indication that antimonium tartaricum is needed.
Calcarea Carbonica
When you suffer from chronic breakouts of acne or other inflamed skin blemishes, calcarea carbonica is a homeopathic treatment that is believed to increase the ability of skin to resist disease. It is indicated for individuals who are overwhelmed by too many responsibilities.
Hepar Sulphuris Calcareum
When boils are present, if you have very painful pimples slow to heal or have abscesses with a tendency to form pus, homeopathic hepar sulphuris calcareum may be used. A person in need of this treatment may have discharges that smell sour or like aged cheese.
Silicea
For acne suffers who have been having outbreaks for years, Silicea is considered the homeopathic remedy to choose. According to naturopathic doctors, having acne for a lengthy period of time indicates a problem that is very deep in the skin.
Pulsatilla
According to naturopathic doctor, Judyth Reichenberg-Ullman, homeopathic pulsatilla can be used for acne caused by several different sources. It is believed to treat acne related to poor diet or a hot, humid environment. It is also recommended for young people entering puberty who suffer with hormonal acne as well as for women who have breakouts related to menstrual cycles.
Dr. Reichenberg-Ullman emphasizes that those who require pulsatilla often crave fatty or milk products that exacerbate their acne, and they tend to be emotional or sometimes clingy.
Sulphur
When skin trouble is related to abnormally reddish skin eruptions that feel hot and very itchy, homeopathic sulphur is indicated. In general, the person in need of homeopathic sulphur may have loose stools, gas, excessive sweat and discharges that smell like rotten eggs.
Arnica
Liquid Arnica 6c is believed by some homeopaths to help with adolescent acne by increasing the blood supply that helps the skin to actively clear debris from the body. The idea is that healthy skin prevents bacteria found in hair follicles from forming acne infections.