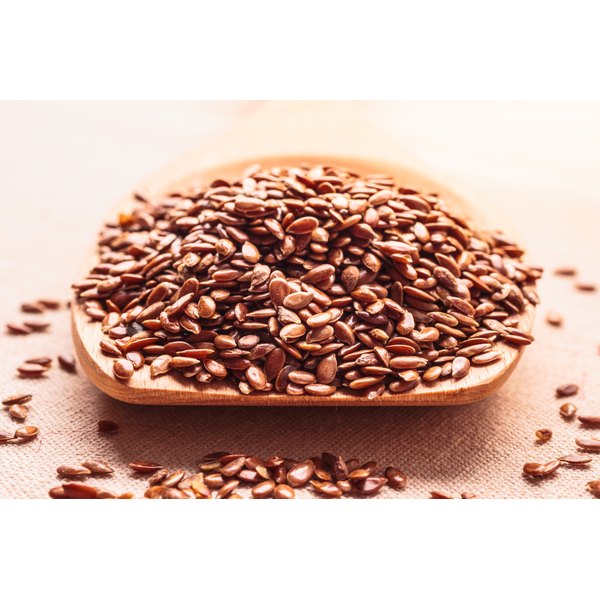 Nopalina is a blend of natural fiber and essential fatty acid sources and fruits. The makers market it as an aid to digestion that helps to maintain healthy sugars levels, burn fat, cleanse the colon, and support weight loss. It does not contain any synthetic ingredients, according to the manufacturer. Before taking any supplement such as Nopalina that contain herbal ingredients, check with your doctor to ensure there will be no interference with any of your current medical treatments.
Canadian Flax Seed
The primary ingredient in the flagship Nopalina product, called Nopalina Flax Seed plus, is Canadian flax seed. The University of Maryland Medical Center, UMMC, states that flax seed is rich in omega-3 fatty acids in the form of alpha-nucleic acid. This essential fatty acid appears to be beneficial for those with heart disease, inflammatory bowel disease, arthritis, high cholesterol and several forms of cancer. Flax seed has a laxative effect, and large quantities of can cause diarrhea. They may also interfere with the absorption of certain medications. A physician should be consulted before a product containing flax seed is to be used to alleviate any medical condition, UMMC advices.
Bran & Psyllium Husks
Nopalina contains both wheat and oat bran. Apart from the nutritional benefits of bran, it is also utilized in promoting bowel movements and is often referred to as â??roughageâ? or fiber. Psyllium, which comes from an herb called Plantago ovate, is also used to promote bowel movements. The laxative effect of psyllium comes from its action of swelling and forming a mass that pushes fecal matter through the digestive tract, according to The University of Maryland Medical Center. Although they are natural products, bran and psyllium supplements used to treat medical conditions should only be utilized under the supervision of a qualified health care practitioner, says the manufacturer's website.
Other ingredients
Other ingredients listed are cactus, senna leaf, and apple, grapefruit, orange, and pineapple. Cactus and the fruits are fiber-rich food substances, and the senna leaf is an herb that has laxative properties. The University of Michigan Health System says senna works because it contains chemicals known as glycosides. Glycosides stimulate colon activity and increase fluid secretion, softening the stool and aiding its passage through the digestive tract. Senna has the potential to create a dependency in order to produce a bowel movement and can also lead to other deleterious effects, such as diarrhea and dehydration. Talk to your doctor before using a supplement containing senna or other herbs, as its use could interfere with any existing therapy.