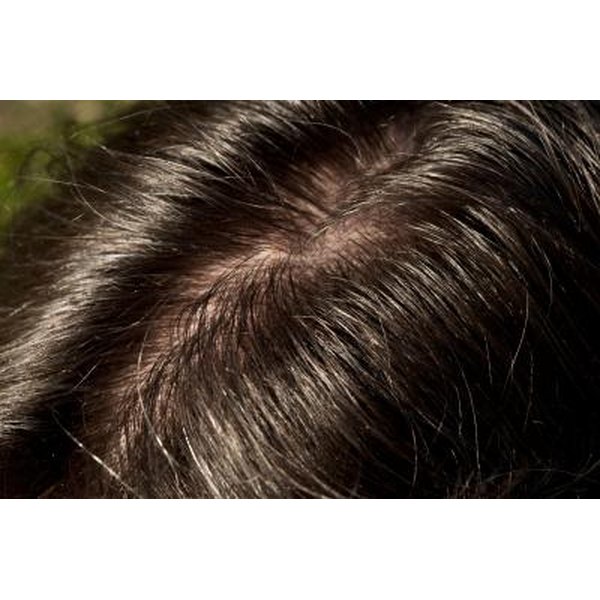 Oily scalps are fairly common, says Jules Abadi, M.D., a New York City-based dermatologist, in "Cosmopolitan" magazine. Your scalp can become oily any time your oil glands there step up production. For some people, overproduction is genetically determined; for others, hormone fluctuations or stressful situations can stimulate overproduction. Whether an oily scalp is itchy and uncomfortable or just looks greasy, getting rid of the excess oil is usually a priority for a person who has one.
Shampoo Strategically
If your oily scalp requires a daily shampoo, the rest of your hair may end up damaged. Mary P. Lupo, M.D., a New Orleans-based dermatologist, recommends in "Allure" magazine that you minimize potential hair damage by making sure your hair is completely saturated with water before shampooing. Opt for a shampoo designed to prevent damage. Lupo suggests choosing one with words like "strengthening" or "renewing" on the label and concentrating your shampooing efforts on the two inches of hair closest to your scalp.
Hydrate Your Roots
An oily scalp doesn't always translate to oily hair; oily roots and dry ends are a common hair issue, according to "Marie Claire" magazine. To balance the differing needs of your hair, "Marie Claire" suggests using conditioner only on the ends of your hair when you shampoo and using an overnight deep conditioner on your ends only once a week. Cheryl Marks, a hairstylist for Pantene, recommends in "Fitness" magazine using a lightweight spray-in conditioner on the lower half of your hair only and concentrating the treatment on your ends.
Be Hands Off
The more you touch your hair and scalp, the more likely your oil glands are to become stimulated and increase production, says Roy Teeluck, a stylist with the Julien Farel Salon in New York City, in "Cosmopolitan." If you touch your hair less frequently, oil production may slow down on its own. If you're prone to touching your hair, consider switching to a style that discourages it, such as pulling your hair back or not having bangs.
Soak Up the Oil
Too much oil can make your scalp stinky as well as oily, so use products that soak up unwanted oil, recommends Abadi in "Cosmopolitan." Opt for a shampoo that contains oil-absorbing ingredients like sulfur, zinc or tar, or add a generous sprinkle of hair powder to your roots to soak up scalp oil.