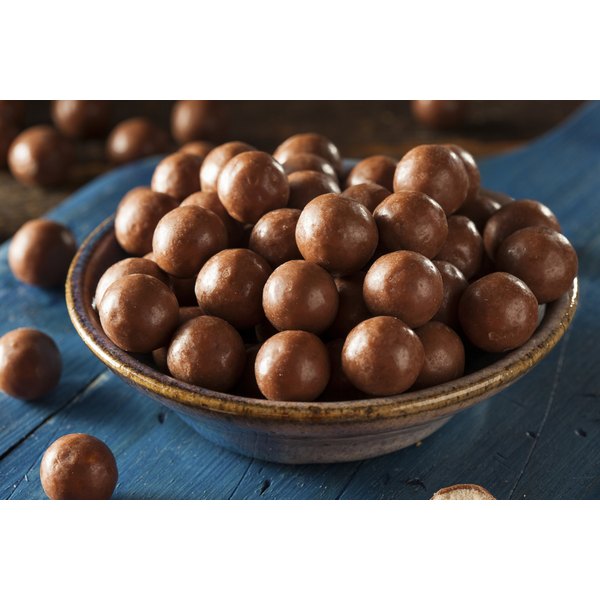 Whoppers Malted Milk Balls are manufactured by Hershey's and come in three flavors: milk chocolate, peanut butter and strawberry. Hershey's states "the original malted milk, Whoppers malted milk balls are still the perfect treat to grab before a movie or to mix into your ice cream."
Tip
Whoppers Malted Milk Balls has 475 Calories and 2.50 g of Protein per 100 gram serving according to the nutrition facts provided by the USDA Food Composition Database.
Ingredients:
Sugar, whey (milk), partially hydrogenated palm kernel oil, corn syrup solids, corn syrup, malted milk (barley malt, wheat flour, milk, salt, sodium bicarbonate), cocoa, 2% or less of resinous glaze, sorbitan tristearate, soy lecithin, natural and artificial flavor, calcium
Calories per Serving
Milk Chocolate: Total calories 190 Calories from fat 60 Total fat 7 g Saturated fat 7 g Sodium 115 mg Total carbohydrate 31 g Sugars 26 g Protein 1 g Vitamin C 0% Calcium 8% Iron 0%
Peanut Butter: Total calories 180 Calories from fat 70 Total fat 8 g Saturated fat 7 g Sodium 105 mg Total carbohydrate 25 g Dietary Fiber less than 1 g Sugars 18 g Protein 4 g Vitamin C 0% Calcium 4% Iron 0%
Strawberry: Total calories 200 Calories from fat 70 Total fat 8 g Saturated fat 8 g Sodium 75 mg Total carbohydrate 31 g Sugars 27 g Protein less than 1 g Vitamin C 0% Calcium 6%
Recommendations: The American Dietetic Association recommends that the average person consume no more than 200 calories from solid fats, added sugars and alcohol combined. These are known as "discretionary calories". One serving of Whoppers is almost the allotment for discretionary calories per day. The recommendation for saturated fat is 22 grams per day, the average serving of Whoppers is almost half of the saturated fat recommendation.
Serving Sizes
Calories above are based on a serving of 18 pieces for milk chocolate and strawberry and 17 pieces for peanut butter. The average package contains 6-to-8 servings per package. It is important to note the reality of calories consumed if half a package or a full package is consumed. Seven hundred to 1,000 calories can easily be consumed if eating more than the 18-piece serving size.
Claims
Hershey's states that Whoppers are "naturally and artificially flavored. The original Malted Milk Balls. 30% less fat than the leading chocolate, 7 grams of fat per 41 gram serving vs 11 grams of fat in the average of the leading chocolate candy brands." Whoppers may have less fat than the "average leading chocolate candy brands," but the majority, if not all, of this fat is saturated fat. The American Heart Association states that "saturated fats raise LDL (or "bad" cholesterol) levels in your blood and increase your risk of developing heart disease.
Moderation
All foods consumed in moderation, whether discretionary calories or not, can fit into a healthy diet. Moderation of discretionary calories is considered to be no more than 200 calories per day. Discretionary calories usually do not contain the vitamins and minerals that are essential for healthy living, which is why they are recommended in small portions only, to optimize the nutritional health of each person.