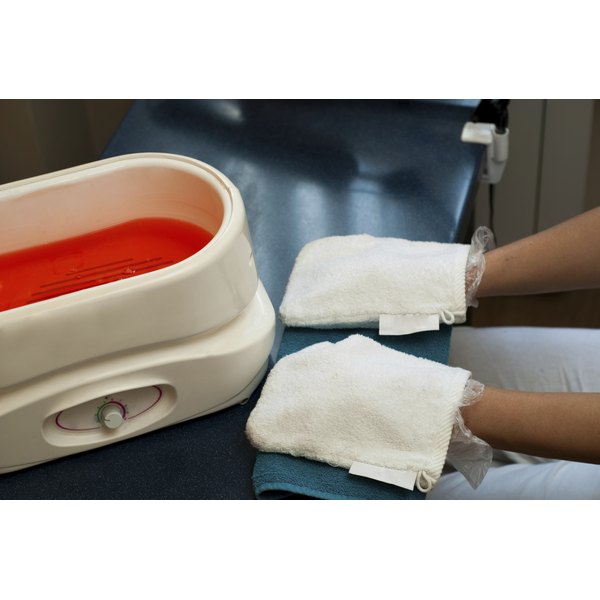 Dry, chapped hands generally are caused by loss of moisture from exposure to the elements, frequent hand washing, sunburn or windburn, or conditions such as eczema. You may experience symptoms such as redness, flaking, itchiness, cracking or peeling. You can heal your hands using specific moisturizing remedies and giving yourself a weekly deep moisturizing treatment.
Ultra-Moisturizing Paraffin
Paraffin treatments were developed to moisturize dry, chapped hands. According to Anne Williams in her book "Spa Bodywork," paraffin treatments coat the skin and help trap moisture and heat. They leave your skin feeling soft and supple, and even help increase the blood circulation in your hands, possibly alleviating painful conditions such as arthritis. Although there are several at-home paraffin treatment kits you could try, you're generally better off getting a paraffin treatment at a salon. It's easier, less messy and you don't have to spend a lot of time preparing the wax, which can take several hours.
Dependable Petroleum Jelly
Petroleum jelly has long been used to alleviate dry skin conditions. According to the American Academy of Dermatology, petroleum jelly can help prevent and heal dry, chapped skin; prevent chafing; and moisturize rough, cracked skin. Apply petroleum jelly to your hands after you wash them or when you get out of the shower to help lock in moisture. Before going to bed, apply a generous amount of petroleum jelly to your hands for smooth, soft hands in the morning. Wear cotton gloves to hold the moisture in and prevent the jelly from staining sheets and pajamas.
Vitamin for Skin
Vitamin E oil helps your skin stay healthy while moisturizing at the same time. According to Janice Cox in her book "Natural Beauty at Home," vitamin E may help prevent the aging process and protects your skin. It can help to heal dry, chapped skin on your hands and soothe any irritations. Make a homemade hand treatment using vitamin E capsules, available in most drug and grocery stores. Mix the contents of one capsule with a teaspoon of olive oil and apply to your hands a few times per week.
Facial Masks on the Hands
According to Cox, you can use your favorite moisturizing facial mask as a treatment for your hands. You should use this treatment once a week when you have the time to relax and pamper your hands. Give yourself a manicure; after filing your nails, apply the mask to your hands. Allow it absorb into your skin, following the recommended time guidelines on the package. After rinsing, apply a thick moisturizing hand cream and wrap your hands in plastic wrap or cotton gloves for 30 minutes or overnight, if possible.