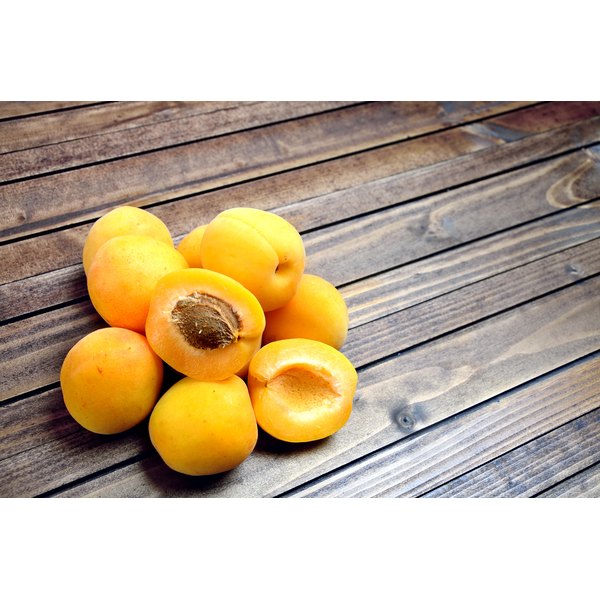 Apricot kernels contain amygdalin, which is used to make the cancer therapy drug laetrile. This drug is not approved for use in the United States, but amygdalin-containing apricot pits often are sold as supplements. While laboratory studies have suggested that amygdalin has anti-cancer properties, the National Cancer Institute's clinical trials did not find it effective. Meanwhile consuming amygdalin, a cyanogenic glycoside, can lead to side effects of cyanide poisoning, advises the Memorial Sloan-Kettering Cancer Center in New York. When you consume foods that contain cyanogenic glycosides, they interact with enzymes in your body and hydrogen cyanide is released.
Mild Effects
Mild symptoms of cyanide toxicity that you may experience when eating apricot kernels include headache, vomiting, nausea, and dizziness, according to MSKCC.
Severe Side Effects
The experts at MSKCC advise that some of the more worrisome symptoms related to cyanide poisoning include diminished alertness, cyanosis (decreased oxygen in your bloodstream, which can cause a bluish tint to your skin), ptosis (causes drooping eyelids), and hypotension or low blood pressure. It also can lead to neuropathies or nerve damage. For example, Andrew Weil, MD, Arizona Center for Integrative Medicine founder, advises you may experience difficulty walking because of damaged nerves. Cyanide poisoning also can lead to liver damage.
Coma and Death
Severe cyanide poisoning can lead to coma or death, according to MSKCC. Consuming apricot pits with vitamin C may increase the amount of cyanide released in your body, which will intensify its toxic effects, according to the American Cancer Society. Side effects from amygdalin also can be intensified by eating peaches, celery, bean sprouts and carrots, according to Dr. Weil. That is because these plants contain enzymes that activate release of cyanide in the body.
Pregnancy and Delayed Treatment Concern
The experts at ACS advise pregnant or nursing women to avoid apricot kernels and other sources of amygdalin because of the risk for cyanide toxicity. ACS also advises against using this treatment in lieu of conventional treatment for cancer because you risk serious health consequences when you use unproven treatments. According to a 1991 review by the ACS, using apricot pits to treat cancer can be attributed to chemist Ernst T. Krebs, Sr.'s theories proposed in the 1920s. Krebs tested an apricot pit extract to treat cancer. However, according to ACS, the pills were proven too toxic for use by people.