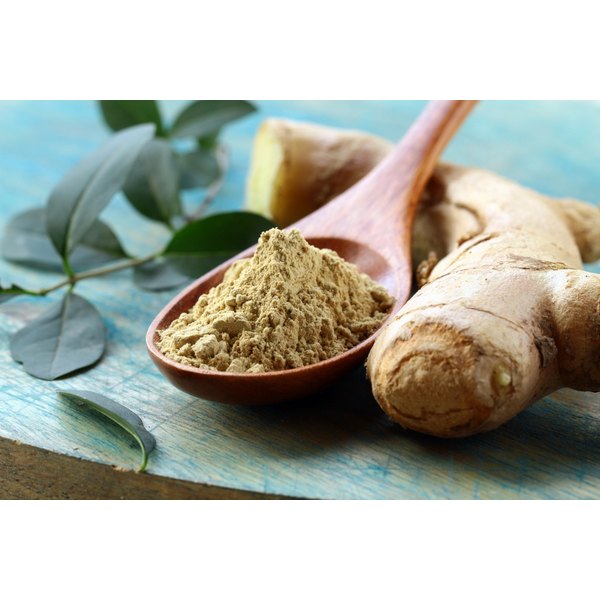 Supplements, including herbs and vitamins, have been shown to possess powerful properties that effectively treat various types of inflammation. Among the most studied and potent in this category are ginger, omega-3s, resveratrol, curcumin, vitamins C and E and quercetin.
Potent Ginger Extract
A 2005 paper published in the "Journal of Medicinal Food" notes that ginger's anti-inflammatory properties have been celebrated for hundreds of years. The author notes that ginger can help regulate biological actions that commonly trigger chronic inflammation. Another 2010 study published in the "Journal of Medicinal Food" found red ginger extract to have a "potent suppressive effect on acute and chronic inflammation."
Omega-3s for Pain
Dr. Frank Sacks of Harvard School of Public Health writes that omega-3 supplements are essential for good health and that they are effective in treating a wide range of conditions, which include inflammatory diseases such as IBD (inflammatory bowel disease) and rheumatoid arthritis. A 2006 study published in "Surgical Neurology" concluded that omega-3s were as effective as ibuprofen in treating arthritic pain, not to mention also being safer.
Go to the Grapevine
Resveratrol is a substance found in grapes, red wine and some other foods that may have a positive effect on age-related diseases, writes Harrison Wein on the National Institutes of Health website. A 2013 study published in "Current Medical Chemistry" tested the effects of resveratrol on 50 healthy adult smokers. The study concluded that resveratrol's anti-inflammatory and antioxidant effects promote cardiovascular health in smokers
A Therapeutic Spice
Curcumin is a component of the spice tumeric, which is a member of the ginger family. Tumeric has been used for many therapeutic applications in alternative medicine. A 2003 paper published in the "Journal of Complementary Medicine" set out to compile and summarize literature on the anti-inflammatory effects of curcumin. The conclusion was that curcumin was found to be a safe and effective anti-inflammatory in six human trials.
Vitamins C and E
Vitamins C and E are both safe, antioxidant-supplying nutrients that protect against free-radical damage. A 2008 study published in "Journal of the American College of Nutrition" noted that vitamins E and C administered both separately and combined can inhibit inflammation and oxidative stress.
Cancer-Fighting Quercetin
Quercetin is a plant-based substance, known as a flavonoid, that is found in various foods such as apples, onions, grapefruit, black tea and red wine, in addition to being available as a dietary supplement. The American Cancer Society notes that quercetin seems to possess both anti-inflammatory and antioxidant qualities. A 2006 study in the "Journal of Biologic Regulators and Homeostatic Agents" also notes that quercetin possesses antioxidant and anti-inflammatory properties that prevent cancer.