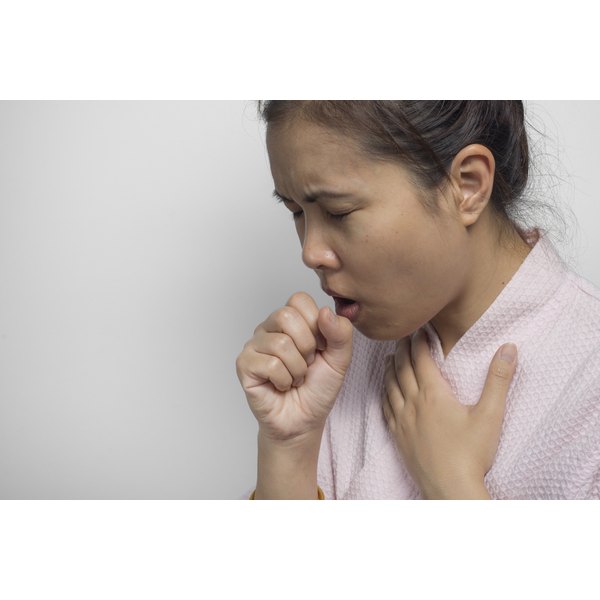 Syrup for a cough is a home remedy that you may want to make to treat a mild cough. There is little clinical evidence to support the efficacy of most home remedies for a cough, but creating your own remedy for a mild cough can be a safer and more convenient solution than using an over-the-counter medication that may cause side effects.
Herbal Remedy
The book "Herbally Yours" by Penny C. Royal, was quoted by Bonnie K. McMillen, R.N, B.S.N., on the University of Pittsburgh's website, suggests drinking a mixture of 1/4 tsp. of cayenne pepper, 1/4 tbsp. ground ginger, 1 tbsp. apple cider vinegar, 1 tbsp. honey and 2 tbsp. water to help relieve pain in your throat as well as to soothe chest congestion. McMillen suggests taking 3 tsp. of the mixture as often as necessary until your cough subsides.
Onions and Sugar
Dice a medium-sized onion into quarter-inch pieces. Spread the quarter-inch pieces of onion inside a glass jar until you cover the bottom of the jar. Sprinkle just enough sugar to cover the layer of onions then spread another layer of onions inside the jar over the sugar.
Repeat this process until you use all of the diced onion. Use the end of a spoon to mash the onion pieces into the sugar to extract their juice. Take one teaspoon of onion and sugar syrup every few hours or as necessary to relieve a persistent cough that accompanies chest congestion, recommends Life Events.
Raisins and Sugar
Grind 100 g raisins with 100 g sugar and heat the mixture to create a sauce, according to Natural Home Remedies. Take 20 g of the raisin and sugar mixture once a day before bed until the cough subsides. The raisin and sugar remedy can help soothe either a dry cough or a congested cough.
Types of Cough
A dry cough feels raspy and does not produce much mucus from the lungs, according to Life Events. You can feel the pain mostly in your throat. A congested cough often expels mucus from the lungs and you can feel the pressure in your chest.
Warnings
See a doctor if your symptoms for longer than one week and include a headache or fever with a cough.
If you are coughing up thick mucus and feel excessive congestion in your chest, then see a doctor.
Do not give honey to children less than 1 year old because of the rare but serious risk of botulism, according to Disabled World.
Take your child to see a pediatrician if your child develops a persistent cough.