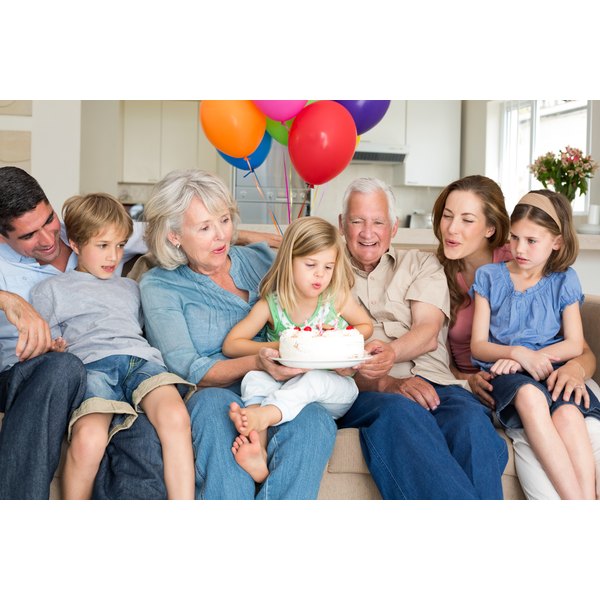 Planning a party for your child can serve as a hectic task for any parent. You definitely want the event to be a memorable one for not only your child but his party guests, too. One of the greatest challenges of having an indoor event will be keeping everyone entertained for the entire duration of the party in limited space. Engage children in fun games that can allow them to be almost as active as they can be outside.
Treasure Quests
Have young party guests embark on a treasure hunt. Scavenger hunts are ideal games for children to play when they are stuck inside the house, according to KidsHealth. Consider a themed scavenger hunt. Let children find items based on the party's theme. Perhaps your child is having an underwater-themed party. Hide plastic fish around an indoor party area. The kids can keep the fish as prizes to take home. Alternatively, have a candy hunt. Since small candy can pose a choking hazard for very young children, only have this hunt for older children. Hide candy in the party area for the guests to collect.
Sound of Music Games
Get your young party guests involved in musical games. A kids' version of "Name That Tune" can encourage musical engagement for children, according to Music Therapist Kimberly Sena-Moore in an article for "Psychology Today." Play several snippets of popular children's songs or kids' TV show theme songs. The first guest to guess the song's title and musical artist wins a small prize. For a different game, plan a children's musical performance in your living room, Sena-Moore suggests. Give each guest a toy instrument and costume and let him perform his own song in front of the others.
All-Star Sports
You can still include sports activities in the party agenda for indoor parties. Outdoor games can be altered for the indoors if you use soft equipment and a large open area. Kids can get some exercise by participating in an indoor basketball tournament using over-the-door hoops and soft foam basketballs, KidsHealth suggests. Let each child have three turns to shoot a ball in the hoop. Hand out small prizes to any child who gets a ball in the hoop. Additionally, engage the guests in an indoor baseball game. Kids can bat a balloon back and forth to each other without letting it touch the floor.
Cooking Competitions
Have young guests gather in the kitchen to make their own party menu. Recreate a popular cooking show and let kids test out their culinary expertise. Hold a "World's Best Pizza Chef" contest. Lay out several ingredients and toppings for miniature pizzas. After each guest has finished making her pizza, bake the pizza in the oven. Designate a person to serve as the judge to select the best pizza. Give the winning child her own kid-size chef hat. You can also hold a cupcake decorating contest to see who can make the most delicious cupcake.