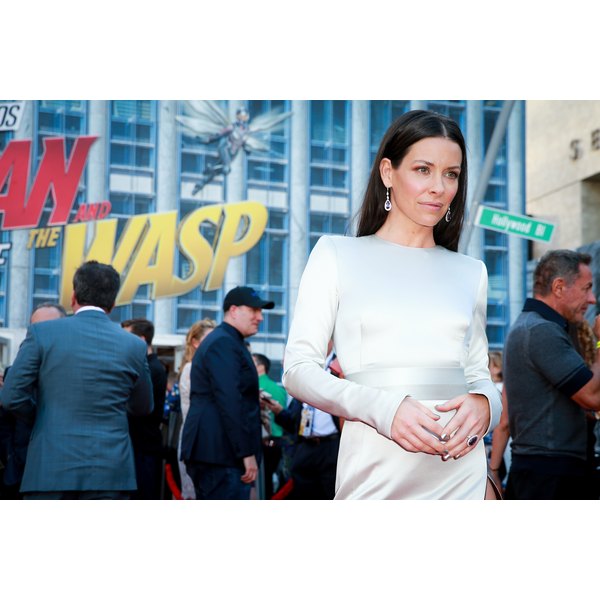 Evangeline Lilly used to work out "like a maniac" in her 20s, but the 39-year-old has a much more laid-back approach to fitness these days. While preparing for her role in "Ant-Man and the Wasp," the mother of two has been documenting her workouts on Instagram, giving fans a glimpse into her workout regimen and diet.
This is exactly how she got ready for her role in the Marvel movie:
30 to 50 Percent of Her Exercise Time Involved Stretching
"In my 20s exercise was about reaching goals in strength, speed, agility and capability. But the stage I'm in now calls for balance, so I've begun stretching a lot more," the actress recently revealed to Shape magazine. "Stretching relaxes you and keeps your muscles from tensing up, but it also strengthens you. I don't think I was aware of that before."
In one of her Instagram posts, Lilly expanded on the topic, explaining that she has never had a problem building muscle, mostly due to genetics, but over the years she has come to learn that with strength, she needs flexibility. "Both in body and in mind, it is a limber muscle that will give me more definition, greater reach, increased agility, more fluid movement and sharper reflexes," she continued. Which is why she puts nearly half her effort into stretching exercises, explaining that it helps with everything from bloating to stress.
What type of stretching exercises does she do? "Whatever my body feels like doing, I do it," she continued. "Sometimes my stretching is slow and meditative. Sometimes it's wild and inventive. Sometimes my stretching will resemble dancing more than yoga. Sometimes my stretching is weak and uninspired."
She Ran Stairs and Went on Long Walks
In addition to going on two-hour walks, Lilly took her cardio to the next level by running up stairs. "Don't forget to move your arms when run," she suggested in another post, explaining that running can be a great way to sculpt your arms. "If folks would remember that moving your arms is just as important as moving your legs when you run, there would be a lot more toned arms out there!" Got that, folks? Use those arms when you run!
She Sculpted Her Core
Lilly admits that ab exercises are really not her thing and that she prefers toned but not "ripped" abs. However, because having a strong core is key to avoiding back injuries, she has devised a five-minute mini core routine that is doable even on busy days. See it below.
She Engaged in Full-Body Workouts
Lilly definitely takes a no-pain, no-gain approach to fitness. "When I drag my tired bones out of bed in the dark to go for a run or do some strength exercises, I am choosing discomfort over comfort because I know that it's the instrument of change," she wrote. In the accompanying Instagram video she talks her way through exercises like lunges, biceps curls, lateral raises and dumbbell squats. And let's just say we can feel the burn!
She Did Jane Fonda Workout Videos (Yes, for Real)
Forget about new and trendy workout videos like Insanity and Zumba — Lilly prefers to keep it old-school, swearing by "Jane Fonda's Complete Workout." "I'm very resistant to fads, skeptical about technology, a believer in simplicity and annoyed by change in general," she explains. "So … as embarrassing as it might be, I have stuck with my 'Jane Fonda's Complete Workout' moves basically my whole life." Hey, if it works, why change it up?
She Followed This Simple Approach to Diet
Lilly never counts calories, but she does pay attention to ingredients. She explains that if she can't pronounce it, she likely won't be ingesting it. The star sticks to eating "real food," which keeps her hunger under control. "When I get full on real food, I want to stop eating. But when I get full on a bag of Doritos or frozen pizza or wheat thins or processed beef jerky, I often just want more," she explains. However, she does indulge in a good cheat day every now and then, making sure to enjoy it.
She Only Ate When She Was Hungry
Lilly claims that refraining from eating until you are hungry helps with losing weight, clearing mental fog, increasing sense of well-being and eating healthier overall. However, she does suggest if you are going to intentionally allow yourself to feel hungry, you should always be prepared with your next meal — that way you can avoid eating the wrong thing!
She Ate a Lot of Veggies
Scrolling through Lilly's Instagram #waspworkouts, it's impossible to miss the plethora of colorful veggies. The actress is a huge fan of everything from greens to root veggies, preparing them every way from roasting to throwing them into her Vitamix. For the 18 most nutritious fruits and vegetables, click here.
Bottom line: Lilly's more laid-back approach to fitness seems pretty hardcore — but incredibly healthy — to us!