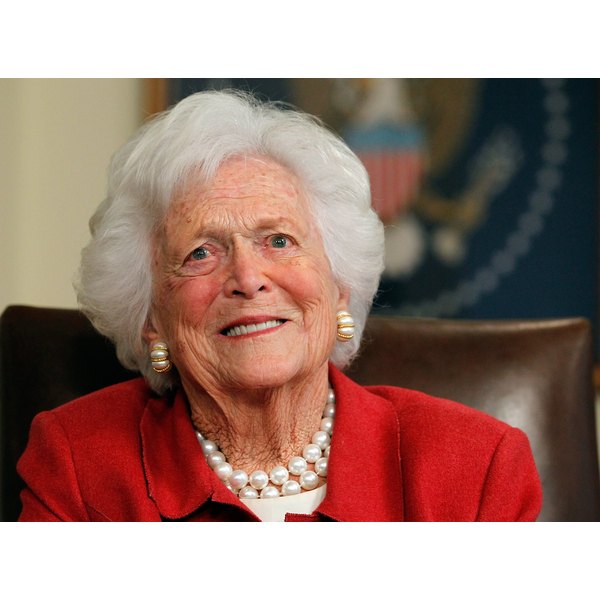 Barbara Bush announced she is electing for "comfort care" due to failing health — and her decision is sparking a discussion about treatment options for terminal illnesses.
The 92-year-old former first lady has been hospitalized several times in recent years for congestive heart failure and chronic obstructive pulmonary disease (COPD). She released a statement on Twitter that she has "decided not to seek additional medical treatment and will instead focus on comfort care."
But what exactly is comfort care? Despite what you might think, it doesn't necessarily mean she will be forgoing all medical assistance. In fact, experts rushed to Twitter to clarify that comfort care (which usually refers to palliative care) is actually a kind of medical treatment aimed at reducing symptoms and focusing on a patient's quality of life.
"I think that using the term 'comfort care' is a bit of a misnomer," Dr. Rodney Tucker, director of University of Alabama at Birmingham's Center for Palliative and Supportive Care, tells NBC News. "Essentially, when patients elect comfort care, they're electing aggressive measures in terms of symptom control. It may be treatment for pain, shortness of breath, nausea and vomiting, anxiety and so on. It also includes the location of care; so where the patient prefers, such as at home. But, by all means, comfort care is medical care."
Additionally, palliative care patients often receive in-home care from the same kinds of professionals that you'd find in a hospital.
"This could be a primary care physician doing home visits, a palliative care doctor, a respiratory therapist, a physical therapist, a psychologist, nurses and social workers," Tucker says.
For heart failure patients like Bush, comfort care might mean opting not to use a breathing machine, CPR or other life-saving measures, Dr. Haider Warraich, a fellow in cardiovascular medicine at Duke University Medical Center and author of the book "Modern Death," tells Kaiser Health News. But they might continue to take morphine to ease their shortness of breath as well as diuretics to remove fluids from their lungs.
The focus of comfort care is to make sure that the patient experiences the final stage of life with comfort, dignity and joy. According to Tucker, this could mean that Bush is also receiving care from a pet therapist, a massage therapist, a music therapist or "anyone who can humanize this experience."
When a patient wants to transition from standard care to comfort care, they usually start by having a conversation with their physician, ultimately involving their family in the discussion (as Bush did), Dr. Sucharita Kher, a pulmonologist and director of the Outpatient Pulmonary Clinic at Tufts Medical Center in Boston, tells Today. And while it may seem costly, comfort care tends to be less expensive than hospitalization and can typically be afforded by anyone with health insurance.
By choosing to share her decision with the public, Bush, who helped found the hospice program at the Washington Home for chronically ill patients, is shedding light on comfort care as a viable end-of-life option.
"It's a personal decision that she didn't have to share, but hopefully it will encourage others to think about their choices, talk about their choices, document their choices and have those choices honored," Nathan Kottkamp, founder and chair of National Healthcare Decisions Day, tells Kaiser Health News.
What's more, Bush might inspire others to start thinking of palliation, which means "to relieve without curing," earlier on, proving that no matter what the circumstances, we can take control over our lives and health.
Read more: 21 Times Celebrities Were Our Self-Love Heroes