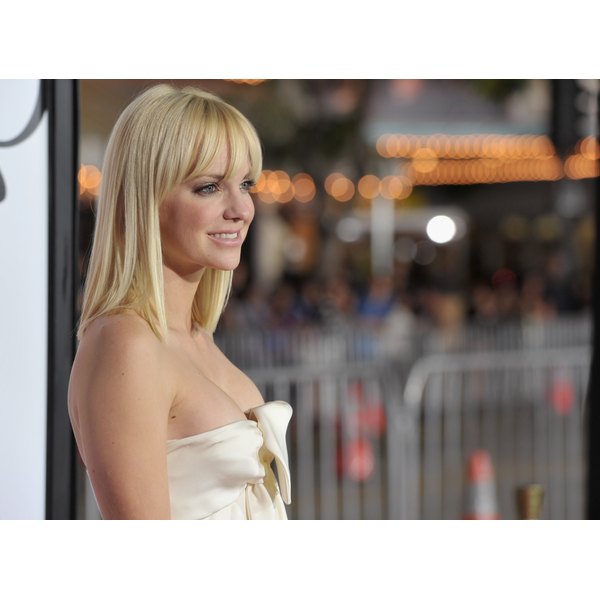 For Anna Faris, getting a boob job isn't anti-feminist. In fact, she revealed that it's a totally boss way to take your beauty and confidence into your own hands.
Before getting a breast augmentation in 2008, the 41-year-old actress wrestled with her own feminist ideals, but confesses that her decision ultimately came down to one thing: She wanted to look good a bikini.
"I was always a negative-A cup, so when I was 30, I was getting a divorce [she was married to Ben Indra for four years], I had just finished "House Bunny" and I'd sold another movie. All of these new things were happening to me, so I got my breasts done," she tells Women's Health. "It was f**king awesome. I never, ever thought I'd do something like that.
"I always thought plastic surgery was caving in to 'the man,' you know? But it came down to a really simple thing: I wanted to fill out a bikini. What would that feel like?" she says. "I'm still floored that I did it, because I am a staunch feminist. I kept thinking, 'Am I betraying my own gender by doing this?'"
Despite her hesitations, Faris decided to go through with the operation — proving that her "do you" type of feminism can be incredibly empowering.
"I think that people should be able to do whatever they want, whether it's getting braces, bleaching their hair, getting extensions, getting a boob job, getting vaginal surgery or getting a nose job," she says.
At the time of her surgery, she had just started dating actor Chris Pratt, from whom she separated last year. Though she recently admitted that the two intentionally cultivated the appearance of a "perfect family" on social media — leaving fans stunned when they announced their separation — they now try to keep it as real as possible.
"What Chris and I try to do is to communicate openly. We reiterate that there aren't rules to this," she says. "We have a lot of love and friendship, and our big goal is to protect Jack [their son]. I cherish my family, my close friends, my child — that makes the rest of it worth it."
Now that Faris is in her 40s, she has started to think about premenopause and other realities of getting older. ("Sometimes I feel like my eyes can't focus quite as well.") But that doesn't mean she's miserable. In fact, she's happier than she has ever been.
"The larger picture is that I feel happier as I get older," she says. "You know how in your 20s and 30s you think, 'That must be so miserable?' But I don't have as many hang-ups now. There's a wonderful liberation."
And as to how she stays in such phenomenal shape? Instead of spending hours at the gym, Faris takes to the outdoors — a habit she learned from her father.
"I grew up in Washington, and my dad took us hiking in the mountains every weekend. I had a passion for it early on. We weren't allowed to bring friends, and I'm really grateful for that time because it forced me to have conversations with my parents and appreciate nature. I hope to instill that in my son."
While Faris isn't exactly the spiritual type (she admits that she doesn't meditate), she uses hiking to get mindful and reflect.
"I think of hiking as my time to be alone and reflect. I love pushing my body, but I also love the solitude. It's one of the few times in my week that I get to be by myself and think about things. Sometimes I listen to other podcasts and get inspiration from them."
All in all, Faris' take on feminism is all about supporting other women, owning your beauty and "doing you," no matter what. That is something we can get behind.
Read more: 21 Times Celebrities Were Our Self-Love Heroes