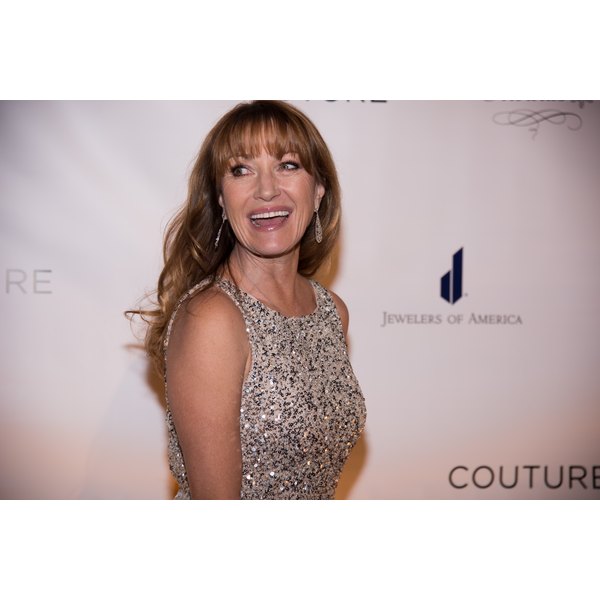 Earlier this week Jane Seymour shared a few snaps on Instagram from her 67th birthday, including an adorable pic with her granddaughter. Her next post? A sultry shot from her new Playboy pictorial, as if to drive home the point that 67-year-old grandmothers can still be sexy.
In fact, the actress — who previously posed for Playboy in 1973 and 1987 — said in an interview with the magazine, "I feel much sexier now than I ever did when I was younger. Then, I was like, 'Oh gosh, I'm supposed to be sexy. What is that?!'"
Seymour is also embracing her comedic side. (Because 67-year-old grandmas can also be funny_._) Her latest role is as an aging aerobics diva in Pop TV's "Let's Get Physical." Seymour told Playboy, "There's an enormous freedom in having lived as long as I have. Like my father used to say, I'm comfortable in my own skin." What a wonderful attitude to have at any age.
The former dancer's career has spanned more than four decades, including a stint as a Bond girl alongside Roger Moore and her long-running titular role in "Dr. Quinn, Medicine Woman." While other women her age in Hollywood — and beyond — may be turning to plastic surgery, Seymour owes her youthful appearance to genetics and healthy living.
"I haven't done any surgeries or injections or anything. I haven't done any of it," she said. "So I still look like 'me.' Every day I'm kind of tempted, but then I look at people I know, and I don't [recognize] them. I'm authentically being me. That's important to me."
In her Playboy interview, Seymour also opened up about the sexual harassment she encountered when she first came to Hollywood. After a producer propositioned her in exchange for a part, she returned to England and considered quitting acting altogether. Fortunately for us, she persevered and credits her mother, a "strong role model," for her resilience.
"Everyone will have challenges. Your natural instinct is to close up your heart and let it eat you up. Do something to help someone else. It will heal you," she said. Amen!
Read more: These Women are Showing That Strong Is Sexy
What Do YOU Think?
Are you blown away by how great Jane Seymour looks at 67? Do you think women are aging smarter and taking better care of themselves than ever before? Would you consider plastic surgery or injections now or later in life?