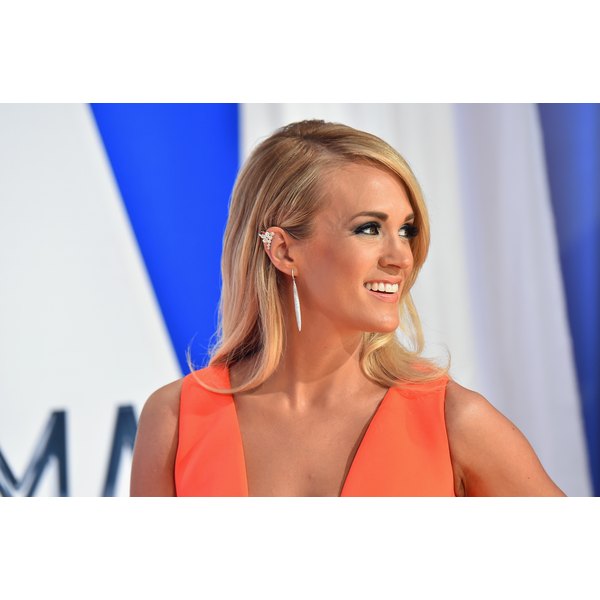 After releasing her newest album "Cry Pretty," Carrie Underwood opened up on the Bobby Bones Show about the now-infamous accident that left the singer with 40 stitches on her face.
"I was taking the dogs out and I just, I tripped, and there was one step and I didn't let go of the leashes. Priorities," the superstar said. "I went to catch myself and just missed a step. If I would've fallen anywhere else, I would've looked just fine."
The interview followed her live performance at the 53rd annual Academy of Country Music (ACM) Awards and marks another step in the singer's return to the spotlight.
In a rare and recent Twitter post, Underwood gave fans a glimpse into her studio recording session: the first image she has publicly shared since receiving stitches on her face following a scary fall last November. And naturally, she looked as gorgeous as ever!
Back in March, the country star, who broke her wrist outside of her Nashville home, opened up to her fan club members, confessing that she is "not quite looking the same," and that the terrible accident did extensive damage to her face.
"There is also another part of the story that I haven't been ready to talk about since I have still been living it, and there has been much uncertainty as to how things will end up," she wrote, according to ET.
"It's crazy how a freak random accident can change your life…. I'll spare you the gruesome details, but when I came out of surgery the night of my fall, the doctor told Mike [her husband] that he had put between 40 and 50 stitches in," she continued.
The star ran into "Below Deck" personality Adrienne Gang at the gym back in December, who promptly shared a photo of herself and Carrie, without knowing that the country singer had suffered any sort of facial injuries. And judging from the image, we can't say we would have noticed either!
Carrie, who surged to international stardom on the fourth season of "American Idol," has maintained her totally awesome positive attitude throughout the ordeal. "I honestly don't know how things are going to end up, but I do know this: I am grateful." She added: "I am grateful that it wasn't much, much worse. And I am grateful for the people in my life that have been there every step of the way."
She's even optimistic about the year to come. "I am determined to make 2018 amazing, and I want to share things with you along the way," she wrote. "And when I am ready to get in front of a camera, I want you all to understand why I might look a bit different."
While Carrie may not look exactly the same as she did before her fall, she is still just as beautiful — inside and out.
What Do YOU Think?
Are you surprised that Carrie Underwood extensively damaged her face? Do you think she looks any different? Why do you think she opened up to her fans about her accident?