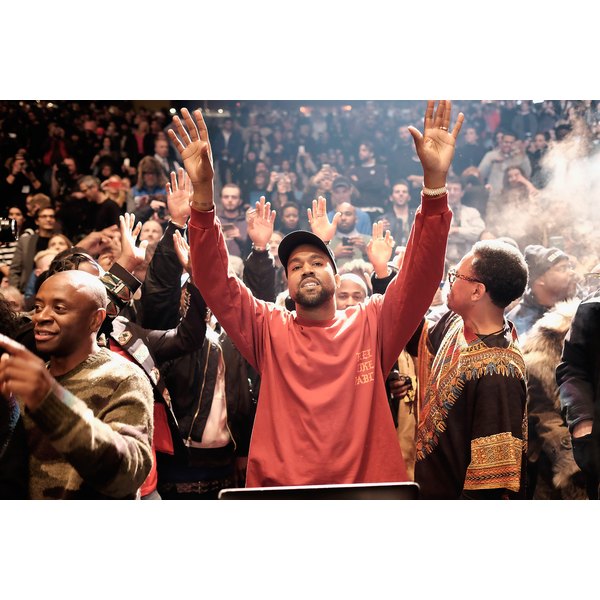 To say that the end of 2016 wasn't easy for Kanye West would be a bit of an understatement. The rapper/designer was hospitalized after suffering a nervous breakdown and forced to cancel his Saint Pablo tour. His wife, Kim Kardashian, was robbed at gunpoint in Paris the month before, and there were some reports that he suffered from "severe paranoia and hallucinations" following the Paris incident.
Most recently, speculation about West's weight gain — what some are calling his "dad bod" — and concern over whether it's related to stress, is sparking commentary on social media. As anyone who has ever experienced traumatic life events knows all too well, mental health and chronic stress may have a negative impact on body weight and physical health.
"Physiologically, the stress hormone cortisol has been shown to increase appetite and appetite for junk food, which will increase the likelihood of accumulating belly fat," says Dr. Ariane Machin, psychologist and co-founder of the Conscious Coaching Collective, when asked about the effects of stress on men's health (but not West's situation in particular). This occurs because the increased levels of cortisol cause higher insulin levels, and that reduces blood sugar and induces the craving of sugary, fatty foods."
Binge eating in particular — or eating copious amounts of food in short periods of time — is also a potential effect of stress. Out of the estimated 10 million Americans who binge eat, 40 percent are men, reports Psychology Today.
Becoming more sedentary is another stress-coping mechanism, such as turning to "numbing" activities like television or the computer even if there's no productive work being done. Dr. Machin notes that a recent survey done by the American Psychological Association found that 40 percent of the respondents said they dealt with stress by eating, while 42 percent said they watch television for more than two hours a day to de-stress.
The challenge, Dr. Machin explains, is that negative coping habits like overeating or becoming more sedentary often lead to feelings of guilt and shame. "This contributes to an on-going cycle that can continue unless it is interrupted through awareness or positive coping methods," she says.
So what is the way out?
Acknowledging what triggers the stress is the first step, says Dr. Machin, followed by devising alternative ways to manage it. For example, you can take a walk whenever you feel compelled to eat or grab the remote.
Professional support may also be required, especially if the stress feels out of the individual's control.
"It is important that if an individual is willing to reach out for support, a psychology professional or life coach could be helpful in working through the situation," says Dr. Machin. "When you are working with someone experiencing these struggles, there are a variety of methods that can be used, but a common one includes cognitive behavioral therapy."
While we don't know the reason for Kanye West's weight gain, many high-profile people are opening up about mental health issues and helping remove the stigma around the topic.