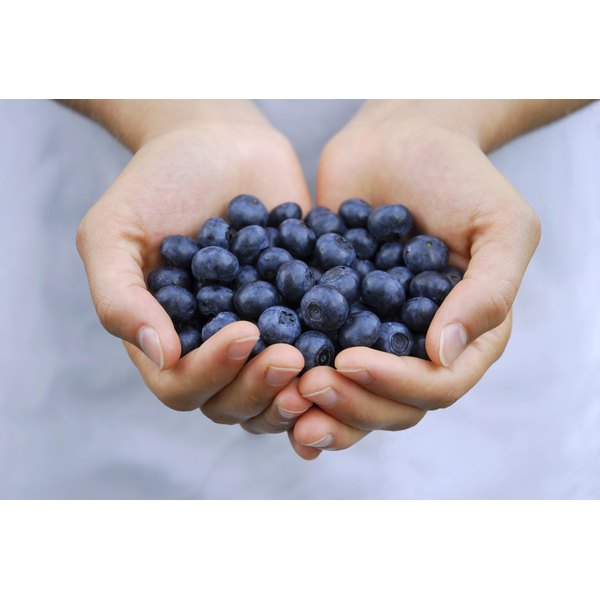 Blueberries make an excellent addition to your weight-loss program, and they are widely available. Blueberries grow in wooded and mountain environments, although you might encounter a "pick your own" blueberry farm almost anywhere. You can find commercially grown fresh blueberries at the grocery store virtually year-round, though they are most plentiful--and least expensive--from May through October. You also can buy frozen blueberries year-round.
Nutrients and Calories
Blueberries are a nutritional powerhouse with a small calorie footprint. For example, blueberries contain vitamin C, potassium and powerful antioxidants, which are compounds that neutralize free radicals. Blueberries also contain fiber that assists your digestive system. They contain no fat, cholesterol or sodium. Finally, a half-cup of blueberries has only 40 calories. This potent combination makes the fruits a healthy and nutritious option for any weight-loss program.
Digestive Benefits
Blueberries have insoluble fiber, which assists the digestive process by moving food through the intestines. A faster elimination process helps you avoid constipation. Your weight-loss program also will benefit from regular waste elimination. In addition, blueberries contain tannins, which function as a natural astringent within the digestive system. The tannins reduce digestive tract inflammation, which in turn reduces the possibility of diarrhea.
Snacking Strategies
If healthy snacking is part of your weight-loss program, consider a blueberry and banana smoothie. Other healthy snack options include a toaster waffle topped with fresh blueberries and yogurt, or a blueberry, yogurt and granola parfait. Or enjoy a handful of the little blue fruits alone. According to the Centers for Disease Control and Prevention, fruit, including blueberries, is a low-energy-dense food, which means you can consume larger amounts with fewer calories.
Blueberry Selection
To enjoy fresh blueberries, purchase berries that are appetizing to the eye. Blueberries should have a bright and even color, and the fruits should move freely you shake the container. If the berries appear soft and squishy, moisture and potential mold may be present. For frozen berries, shake the frozen food bag; if the berries don't move around easily, they might have thawed and refrozen.
Pesticide Considerations
When choosing blueberries for your weight-loss program, keep in mind that many U.S.-grown blueberries might have pesticide residues that could affect liver, cellular and nervous system functions. In fact, blueberries are among the 12 foods most likely to contain the residues, according to the Environmental Working Group. To avoid this pesticide contamination, look for organically grown blueberries in your grocer's produce section.