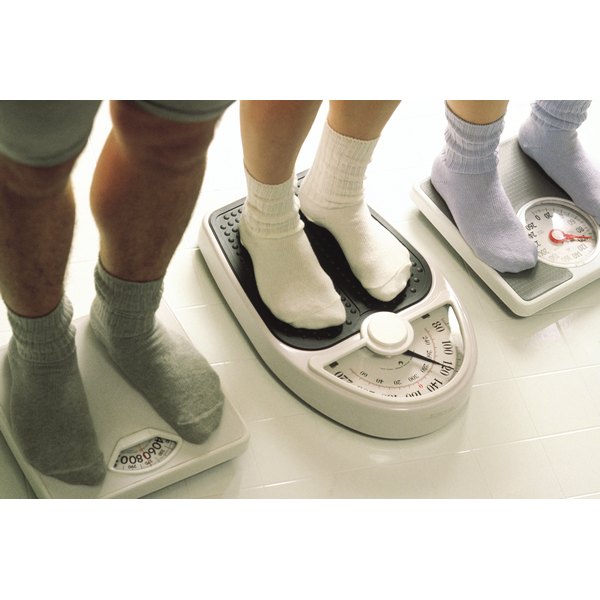 A major obstacle to weight loss is lack of motivation. While improved heart health, lower cholesterol and other health benefits are desirable goals, they don't provide tangible benefits that many people can see, feel or touch. Providing specific rewards for weight loss adds motivation for many people by giving them a more "real" benefit for their efforts. Create weight loss contests to help yourself, students, employees or loved ones take off those extra pounds.
Team Competitions
When someone involved in a group competition sees they are the reason their team is falling behind during a sales, fundraising, weight loss or other contest, they are spurred to contribute, if not to meet the goals of the contest, then to avoid embarrassment. Create a team weight loss competition at your place of work, school or home.
Ensure that the rules are clearly spelled out. You may choose the winning team by total pounds lost or total percentage of body weight lost. To create more camaraderie at work or school, create teams composed of different departments or social strata, rather than letting the same cliques create teams.
Update individual results weekly to motivate the top and bottom performers. Be careful not to hurt feelings and de-motivate the lesser performers who may have been pressured into participating. Employers may want to consult legal counsel regarding any health and harassment issues arising over a weight-loss contests and public posting of results.
Individual Awards
Some individuals may have more weight to lose than others, so consider a contest that awards prizes based on percentage of body weight lost. To motivate everyone throughout a competition, award prizes to anyone who meets pre-set goals for weight loss or exercise participation. When someone sees they are 10 lbs. behind the leader during the last week of a competition, or a team sees they trail by 100 lbs. late in the contest, they may drop out of the contest if there is only one prize.
Exercise Competition
To discourage weight-loss programs that only focus on diet, add an exercise component to a contest. Require contestants to participate in at least three verifiable 30-minute exercise sessions per week. Add bonus points at the end of the season for participants with perfect attendance records and deduct a point each time a contestant misses a workout.
Participants in the University of California, Merced's Fit Cat challenge had a weekly weigh in and were required to keep a food journal and exercise three times weekly for 30 minutes each session. Team captains had bi-weekly or weekly or monthly team meetings. The human resources department conducted monthly meetings on nutrition and fitness, with all participants receiving fitness-related gifts throughout the duration of the contest, and the winning team earning MP3 players or heart monitors.
Corporate Competitions
Go outside of your office or school and create a competition between competing businesses, schools, hospitals, churches, Scout troops or associations. Participating members can pay a registration fee with the money going to the winning group's charity or back to the contestants.
The San Bernardino Community College District attracted 17 four- to six-person teams to its "Wii Not Fit" competition, with winning teams donating their prizes to a campus cause of their choice. One team used daily update emails to inspire group members to keep working.
Buy an annual traveling trophy that stays at the winner's office during the year following a win. Have a group weigh-in where all members meet and greet, rather than having individual weigh-ins at each workplace. Hire a dietitian and fitness expert to give a lecture to the participants and provide tips.