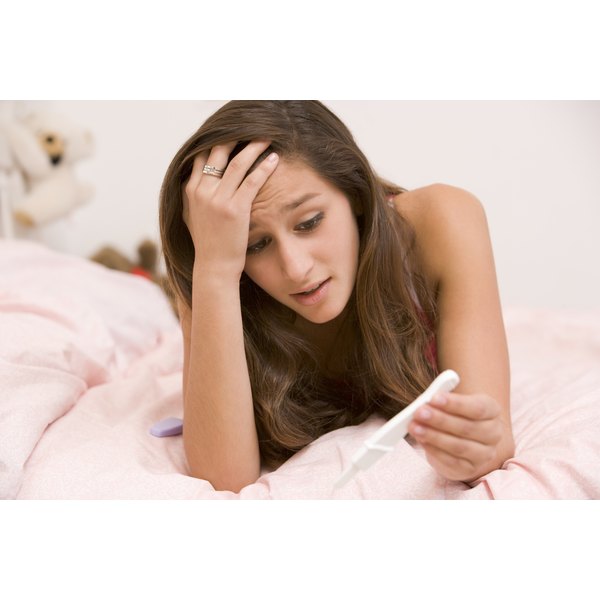 Teen pregnancy is a concerning issue for all members of society. The Guttmacher Institute, a worldwide agency on sexual and reproductive health, provides statistics on the prevalence of teen pregnancy. According to data published in 2010, 750,000 women younger than 20 became pregnant in 2006, the year with the most-recently released statistics. This translates to 71.5 pregnancies per 1,000 women aged 15 to 19, meaning approximately 7 percent of teens that age became pregnant. When a teen pregnancy occurs, the young woman is faced with a decision as how to proceed with the pregnancy and after the birth. The three choices available to a pregnant teen are to have an abortion and terminate the pregnancy, carry the baby to term and place the child for adoption or parent the child as a teen mother.
Abortion
Abortion is legal in the United States, although not all areas have an abortion provider available. As of 2010, 34 states have parental consent laws, meaning that a minor seeking an abortion must notify her parents. Parent consent laws, availability and cost are the greatest barriers a teen faces to obtaining an abortion. The Centers for Disease Control and Prevention reports that in 2006, 27 percent of pregnancies among girls aged 15 to 19 ended in abortion.
Adoption
Adoption is the least-prevalent option among pregnant teens. Research shows that only 1 to 2 percent of women place their children for adoption, and that the number of teens who place their babies for adoption has declined sharply over recent decades. A decreased social stigma regarding teen pregnancy leads fewer women to place their child for adoption and, instead, to keep the baby. For those mothers who choose to place their child for adoption, several options are available, including open adoption, closed adoption and being able to select and meet the adoptive parents.
Parenting
Over half of teen pregnancies end with the woman choosing to deliver and rear the child. Teen mothers are less likely to complete high school or college than women who delayed having children, and fewer than one-third of teen mothers compete high school. The Gladney Center for Adoption reports that 80 perfect of teen mothers receive welfare at some point. Approximately 25 percent of teen mothers have another child within two years of their first birth.
Being raised by a teen parent has consequences for the child as well. Research shows that babies born to teen mothers are more likely to be born underweight than babies born to mothers over age 20; 7 percent of pregnant teens receive no prenatal care. Teen pregnancy often creates a cycle of poverty, crime and further teen pregnancy. Research has shown that sons of teen mothers are 2.7 times more likely to go to prison than sons of women that had children after the age of 20, as well as children of teenage mothers are twice as likely to be abused and neglected than children born to women over the age of 20.