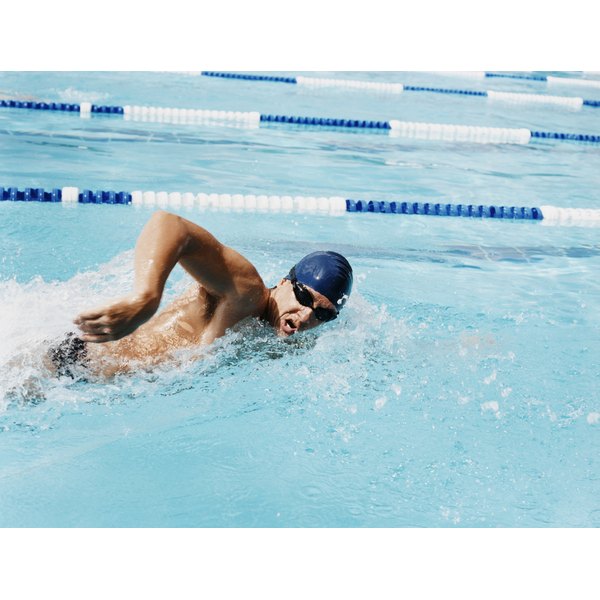 Enjoying the swimming pool doesn't necessarily mean you have to be wearing your shades and sipping a tropical drink. This venue is equally effective at helping you get in shape as it is for helping you relax on summer weekends. Pool exercises provide a viable alternative to traditional workouts such as jogging and cycling. If you need to breathe new life into your workout, grab your bathing suit and towel and get splashing.
Swim Toward a Slimmer Body
Any discussion of pool-based exercises to help you lose weight should begin with swimming. This exercise, which can help you burn several hundred calories per hour, creates virtually no impact on your joints. The stroke you choose to swim dictates the rate at which you'll burn calories. Harvard Health Publications notes that the front crawl and butterfly burn more calories, followed by the breaststroke and backstroke. If you aren't the most accomplished swimmer, try treading water.
Splash Away the Pounds
Water aerobics are ideal for people who are overweight or obese, but this form of exercise won't burn calories as much as some other pool-based exercises. Harvard Health Publications notes water aerobics burn calories at the same rate as walking at 3.5 mph, but don't dismiss this activity just yet. If you can't swim for an extended period of time, it might be ideal to shift your workout toward water aerobics. You can adapt this workout to include a number of movements, including jumping jacks, bicycle kicks and scissor kicks.
Sports Can Play a Role
If you favor getting in shape alongside a number of workout partners, water-based sports are ideal. Sure, you can race each other in a lap pool, but casual and competitive sports alike can help you burn calories without necessarily having to approach the activity as a workout. Water polo, for example, burns calories at an accelerated rate, but it could pose a challenge for those who aren't overly athletic. Effective alternatives to consider include water volleyball or basketball. Start in the shallow end and, for added challenge and a better calorie burn, move to the deeper end.
Jump In for Better Health
Exercising in the pool isn't just an alternative to land-based workouts, it's also a way to prevent injury. The water that surrounds you acts as a shock absorber of sorts, making pool exercises ideal for those with joint and back pain. The website Spine Health notes exercising in the pool helps you to improve your conditioning and increase your mobility without developing pain. The water provides a suitable form of resistance that can increase the challenge of such simple exercises as walking. Water exercises can also lift your mood and ease the symptoms of certain chronic illnesses.