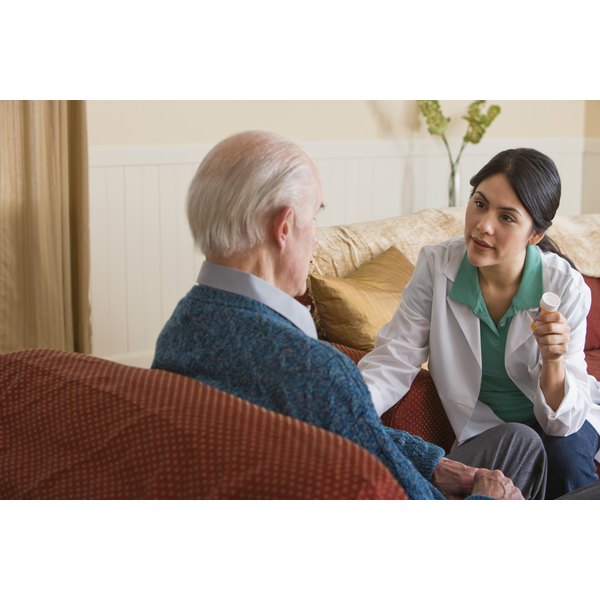 Nitrofurantoin monohydrate is a prescription medication used to prevent or treat urinary-tract infections caused by the bacteria Escherichia coli, or E. coli for short. This medication is administered orally and should be taken with food. Nitrofurantoin monohydrate can cause side effects in certain patients, which should be discussed with a doctor if they occur.
Nausea or Vomiting
Patients taking nitrofurantoin monohydrate can experience stomach-related side effects following treatment. In clinical trials for this medication, nearly 10 percent of patients taking nitrofurantoin monohydrate experienced nausea as a side effect, reports Rx List, an online drug index for consumers. Certain patients may also begin to vomit after taking this medication, which can lead to a significant decrease in appetite. These side effects of treatment are typically mild and can be diminished by eating a small meal or snack prior to taking a dose of this medication. Patients who experience persistent nausea or vomiting during nitrofurantoin monohydrate treatment should contact a doctor for further evaluation and care.
Headache or Dizziness
Treatment with nitrofurantoin monohydrate can cause headache or dizziness to occur as side effects in certain patients. These side effects can be uncomfortable and may contribute to decreased concentration at work or school. Sensations of dizziness can cause affected patients to appear unstable while standing or walking. Painful headache symptoms or dizziness are typically temporary and may subside with continued use of this medication.
Gas
Approximately 2 percent of patients taking nitrofurantoin monohydrate reported experiencing gas--also called flatulence--during clinical trials for this medication, explains RxList. Excess gas within the stomach can be uncomfortable and may contribute to nausea or stomach cramping or bloating. Recurrent flatulence can occur in conjunction with a foul or unpleasant odor, which can be embarrassing to certain patients. Taking this medication with food can help prevent the development of these side effects.
Allergic Reaction
Certain patients taking nitrofurantoin monohydrate may experience an allergic reaction to this medication, warn health officials at PDR Health, a medical information website established by the publishers of the Physicians' Desktop Reference. Side effects of an allergic reaction can include breathing difficulties, hives, heart rate abnormalities, loss of consciousness or unusual facial swelling. These allergic reaction side effects can be life-threatening if emergency medical care is not received.