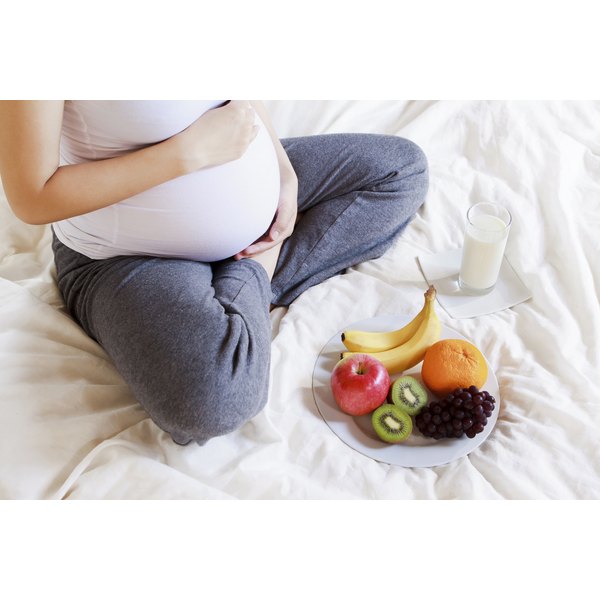 A high-fiber diet can supply important nutrients and prevent constipation in pregnant women. The American Pregnancy Association recommends that pregnant women attain 25 to 30 grams of dietary fiber daily. Maintaining proper hydration is suggested for women as well, particularly when consuming a high-fiber-diet. For best results, discuss dietary changes with your doctor prior to making them.
Fruits and Vegetables
Fruits and vegetables provide an array of valuable vitamins, minerals, antioxidants (disease-fighting nutrients) and dietary fiber. Fruits particularly high in fiber include raspberries, pears, apples, strawberries, bananas, figs and raisins. Vegetables high in fiber include artichokes, peas, broccoli, turnip greens, sweet corn, Brussels sprouts, baked potatoes (with skin) and carrots. A variety of fresh, colorful fruits and vegetables can provide broadest nutritional benefits. According to the American Dietetic Association, 2 cups of fruit plus 2 1/2 cups of vegetables can provide most adults' daily requirements, or a total of 20 to 35 grams.
Whole Grains
Whole grains such as whole wheat, Bulgar, spelt, barley, rye, oats, brown rice, wild rice and popcorn provide valuable amounts of dietary fiber, in addition to numerous vitamins and minerals. Hot and cold vitamin-fortified cereals provide valuable amounts of folic acid--a B vitamin important in preventing birth defects. Whole-grain pasta, cooked barley, rye or oatmeal, air-popped popcorn, whole grain crackers and whole-grain bread made from any combination or number of grains provide significant amounts of dietary fiber.
Legumes
Legumes, such as split peas, black beans, kidney beans, chickpeas and lentils, also provide rich amounts of fiber. Some beans, such as Great Northern beans, also provide folate. Since legumes are rich in protein as well as carbohydrates they may help promote blood sugar balance in addition to digestive health in pregnant women. Since legumes vary in specific nutrient and fiber content a variety is recommended for broadest nutritional benefits. High-fiber foods made from legumes include split pea soup, dal (an Indian lentil dish), bean burritos, bean-based chili, hummus (dip made from ground chickpeas), bean-based vegetarian "burgers" and chilled bean salads. For best health benefits, high-fiber foods low in saturated fats are recommended.