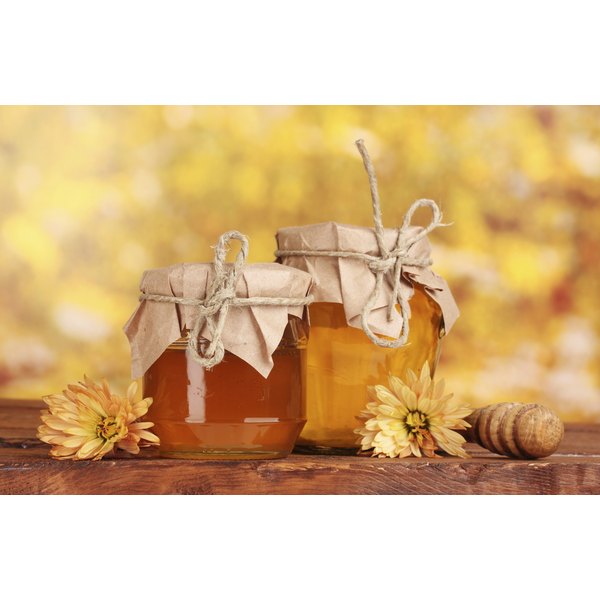 Honey is much more than just a tasty condiment. It's loaded with acne-fighting antibacterial and antiseptic properties for your skin. The sweet stuff also contains glycolic acid, a chemical used for facial peels. On its own, honey is effective in diminishing blackheads, but mix it with cornmeal, mint or other natural ingredients to make the treatment even more powerful. For a soothing, spa-like experience, warm up the honey before spreading it over your skin.
Cut an apple into slices, then cut off the peel and put the flesh in a blender. Set the blender to a low speed until the apple turns into pulp. Use apples for their glycolic acid content, which is helpful when exfoliating acne-prone skin.

Combine the apple pulp with a pinch of chopped mint, 1 tablespoon of cornmeal or 1 tablespoon of uncooked oats. Include the gritty ingredients, such as oats and cornmeal, to exfoliate the skin. Include mint, which contains salicylic acid to treat acne, along with antibacterial and anti-inflammatory properties.

Pour 1 tablespoon of honey into a small, heat-safe bowl. Put the bowl in the microwave.

Heat the honey for 30 seconds to one minute, or until it's warm to the touch. If the honey gets too hot, let it cool slightly to avoid burns.

Mash the apple pulp with the honey until a thick paste forms.

Spread the honey mixture over your entire face and other acne-prone areas, such as your neck or chest.

Let the honey mixture dry for about 10 minutes, then rinse it off with warm water. If you have trouble removing the honey, use a damp washcloth.

Tip

Use honey as a spot treatment by dabbing a bit on a pimple before going to bed, then covering it up with a small bandage. Remove the bandage and rinse off the honey in the morning.

Warnings

Do not use these treatments if you are allergic to honey.