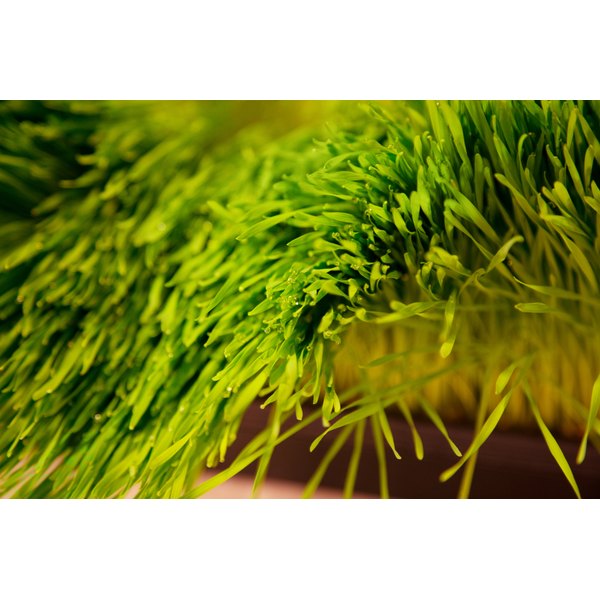 Walk into your local juice shop and browse the extras you can mix into your smoothie. Wheatgrass is likely to be one of these options. While claims made by supplement makers may be controversial, alternative medicine experts agree that wheatgrass is beneficial to the body in many ways. In the convenient pill form, wheatgrass can be taken nearly anywhere.
General Benefits
Believers in the benefits of raw diets, such as Charles Schnabel, agricultural chemist and proclaimed "Father of Wheatgrass," praise the advantages of wheatgrass. The pill form offers consumers the opportunity to use the product when juicing is not an option and still reap the benefits. The advantages of this supplement include anti-aging properties, relief from skin disorders and potentially the prevention of cancers.
Taste
Typically consumed as a juice, wheatgrass liquid tastes quite unpleasant. In effort to disguise the taste, wheatgrass is often mixed into shakes or mixed with honey. Doctor of Natural Health, Gloria Gilbère, believes that the greatest health benefit is obtained from the enzymes created during the juicing process. Others consider enzymes within the body sufficient and recommend wheatgrass in pill form. One significant benefit to the pills is the lack of aftertaste associated with this product.
Convenience
Dr. Chris Reynolds of the University of Western Australia promotes the pill form of wheatgrass for its convenience. With the ability to simply 'pop a pill,' consumers can acquire the benefits of wheatgrass even when away from home. While easy to carry and use on the go, the usual dosage is seven to 10 pills per day, which can be hard to swallow.
Nutritional Benefits
Wheatgrass grown for the purpose of processing into pill form has a longer growing period than the 'tray-grown" form meant to be juiced. As a result, the pill form contains more nutrients per serving. For example, the pill form contains 1670 IU of Vitamin A, as compared to 120 IU in the juice.