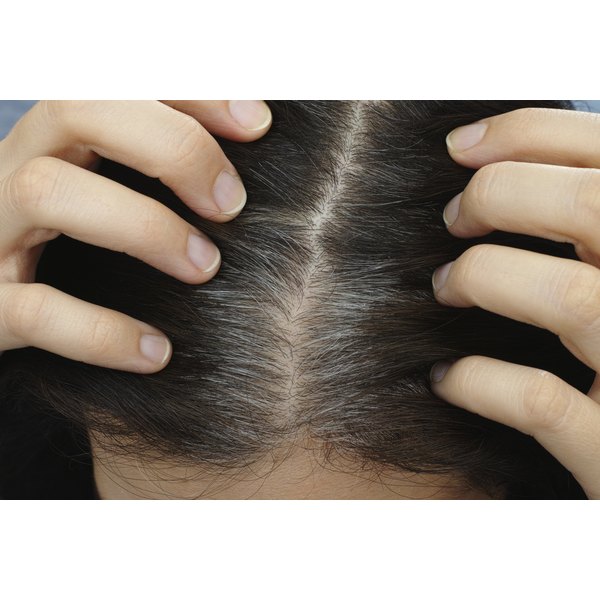 Nioxin Follicle Booster is Nioxin's key product in treating disorders of the hair follicle. Nioxin Follicle Booster is a nonprescription treatment available from most drugstores and online pharmaceutical outlets. Nioxin states that Follicle Booster is specifically designed to place the scalp in the best possible condition to grow high-quality hair, and it does not claim that Follicle Booster is able to regrow hair lost as part of balding.
Treatable Conditions
Nioxin Follicle Booster is aimed directly at those who are experiencing general to excessive thinning of the hair, as well as low-density hair coverage specifically at the hairline. Nioxin claims to be effective for both men and women of any age, although its ability in treating thinning hair makes it especially suitable for treating hair conditions in women, who generally tend to suffer from thinning and limp hair as opposed to the recession and overall pattern baldness experienced by many males.
Active Ingredients
Nioxin Follicle Booster contains a large number of ingredients that have been proven to prevent hair loss and encourage the growth of strong, healthy hair. These include vitamins and minerals such as copper, iron, biotin and caffeine, and herbal remedies such as ginseng, ginkgo and saw palmetto. These ingredients have a twofold purpose: Those such as saw palmetto, biotin and caffeine focus on treating the hair follicles and inhibiting DHT, a leading cause of hair loss, while ingredients like ginseng and ginkgo focus on protecting the hair from UV rays and other environmental damages.
Application
Nioxin Follicle Booster should be applied directly to the scalp twice daily. Application should be focused specifically on areas where the hair appears to be excessively thin, and to areas on the hairline that have a particularly low hair density. It should be noted that some redness may appear at areas where Follicle Booster has been applied; however, this is a temporary effect of the product, as a result of increased circulation in the applied areas, and should fade soon after appearing.
Results
Nioxin Follicle Booster seemingly divides opinion in terms of its results. For some people, the follicle treatment seems to work very well, giving good to excellent results when applied properly and consistently. For others, Follicle Booster provides little or no tangible results. Nioxin Follicle Booster does seem to be a useful addition as part of a more comprehensive hair-loss routine, however, and its use alongside other hair-loss shampoos and conditioners, as well as other topical treatments, can help to maximize results.
Side Effects
Although Nioxin states that there are no side effects associated with the use of Follicle Booster, some reports suggest that itchiness and mild irritation of the scalp can occur after application. Any side effects can be attributed to improper application, and users should take care to apply Nioxin only to thinning areas of the scalp to minimize the risk of adverse reactions.