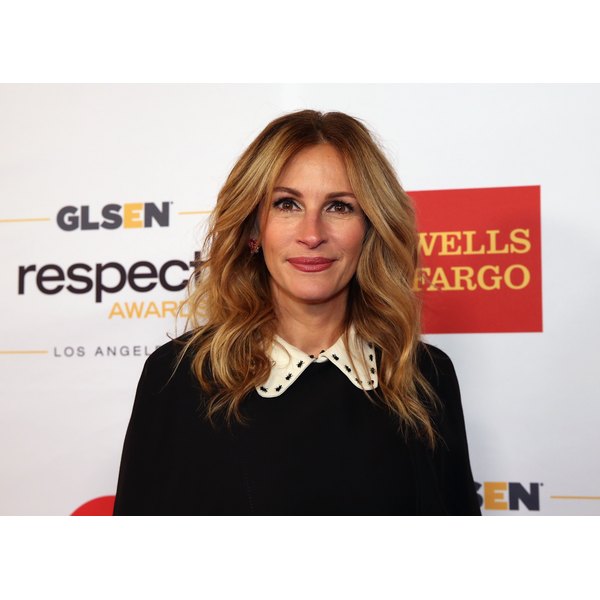 Other celebrities may avoid carbs and sugar like the plague, but not Julia Roberts. The 49-year-old superstar recently revealed that she's not afraid of incorporating pasta, cookies, cheese and wine into her diet.
Roberts revealed her weakness for cookies during an interview with People, which named her this year's Most Beautiful Woman (a title we think is totally valid, for the record). "I love a good cookie!" she exclaimed, later noting that her cookie of choice is chocolate chip.
But that's not her only dietary splurge: Sometimes she swaps out her chicken for noodles at lunchtime. "Why is everybody scared of pasta? Pasta never did anything to you," she tells People's editor-in-chief. "Don't be mean to pasta."
Other than those two items and a glass of wine with dinner, pretty much everything else Julia eats would be approved by a Hollywood nutritionist. Roberts makes sure breakfast is her heartiest meal, opting for lots of protein and carbs.
Typically, Roberts' high-protein breakfast consists of avocado on sourdough toast with eggs, fruit, coffee and coconut water. For lunch she keeps it simple with a salad and grilled chicken, and for dinner she feasts on lean protein like salmon paired with (more) avocado, brown rice and a glass of wine. She also makes sure to stay hydrated by drinking water all day.
What's so great about the superstar's diet? Her big, balanced breakfast of protein, carbs and healthy fats provides Roberts with energy throughout the day and helps to keep her appetite in check. A lean but protein-packed lunch gives her an extra energy boost, as does her occasional pasta splurge.
She ends the day with more protein, healthy fats and complex carbs — which is a better option than simple carbs because they are easier for the body to digest, especially at night. She washes it all down with lots of water, which is key, given the fact that H2O is great for weight loss and detoxification and even has skin benefits (six to eight 8-ounce glasses per day is recommended). No wonder Roberts is always glowing.
The truly admirable thing about Roberts' diet: She refuses to deprive herself of what she really wants and allows herself to indulge in cravings every now and then — which likely prevents her from going on crazy food binges. While restrictive diets can help you lose weight in the short term, following a more moderate diet can help establish a healthy lifestyle in the long term.
So go ahead and treat yo'self like Julia does, and don't be afraid to swap out your lettuce for penne every now and again.
What Do YOU Think?
What do you eat when you want to treat yourself? Are you afraid of eating pasta? What's your favorite kind of cookie?