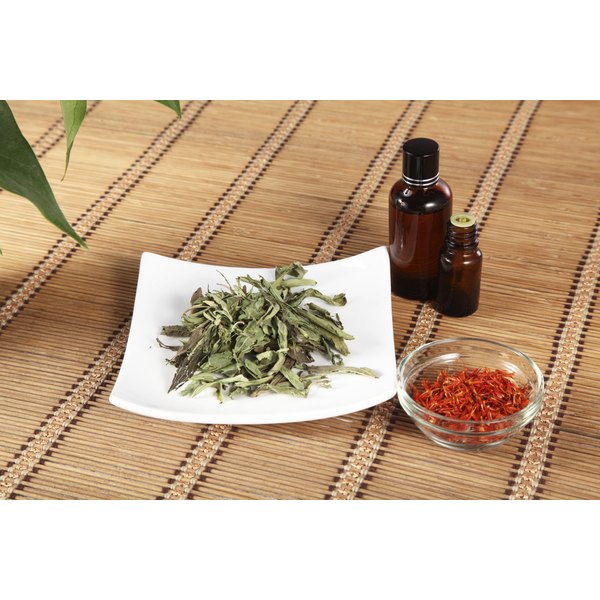 Olive oil may get all the press, but safflower oil is emerging as a health superstar in its own right. Made from the seeds of safflowers, which are similar to sunflowers, this oil contains healthy fats and may even help prevent cardiovascular disease. All oils are pure fat, however, which means they're high in calories. Use safflower oil sparingly to help avoid unwanted weight gain.
Healthy Fat
Safflower oil is rich in monounsaturated fat, which may help protect against heart disease. Unlike saturated fats from meat and dairy, which are linked to unhealthy cholesterol levels, monounsaturated fat may help reduce "bad" LDL cholesterol in your bloodstream that can lead to plaque buildup in the arteries, narrowing the passageway. Sometimes, the plaque can break open, causing a blood clot that completely blocks the artery. This may cause a heart attack or stroke, which is why cholesterol management is vital for your cardiovascular health.
Vitamin-E Boost
Safflower oil is also an excellent source of vitamin E, as each tablespoon provides 4.6 milligrams of this nutrient, one-fourth of the daily value. Vitamin E is an antioxidant that helps protect your cells from free-radical damage from sun exposure, cigarette smoke and other pollutants. You also need vitamin E for a healthy immune system and cell signaling, and the nutrient may even play a role in maintaining plaque-free arteries, according to the Office of Dietary Supplements.
Diabetes Help
Safflower oil may be a healthy choice for diabetics to help manage blood sugar, according to a study published in "Clinical Nutrition" in 2011. Researchers gave obese, diabetic women 8 grams -- about 1.6 teaspoons -- of safflower oil each day for 16 weeks, and tested them for blood glucose, signs of inflammation and insulin sensitivity. At the end of the study, they found reduced glucose and inflammatory markers and increased insulin sensitivity, indicating that safflower oil may be helpful in keeping diabetes symptoms under control.
Kitchen Versatility
Not only is safflower oil good for you, but it's versatile enough to fit into just about any recipe that calls for oil. It has a mild flavor, and it works well in baked goods as well as salad dressings or marinades. The refined variety has a high-smoke point -- meaning you can heat it to high temperatures before it burns -- so it's suitable for sauteing or frying. Just look for "high heat" on the label, as some safflower oils don't hold up well in the frying pan.