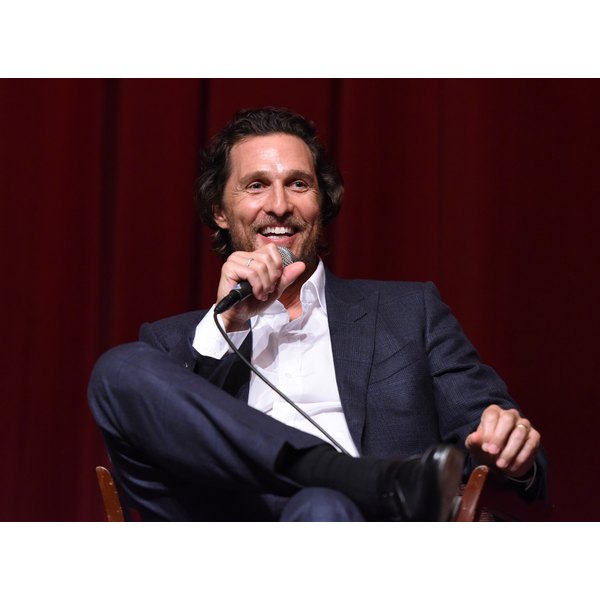 Matthew McConaughey is no stranger to gaining and losing weight for the sake of his career. The 47-year- old actor, who famously shed 38 pounds to portray an AIDS patient in "The Dallas Buyers Club," most recently packed on the pounds for his soon-to- be released movie "Gold." And the craziest part of his calorie-rich diet?
Cheeseburgers and beer — for breakfast!
"I've had roles where I've lost a lot of weight, but for this one I got to gain a lot of weight. Gaining is much more fun!" he said about his nearly 50-pound weight gain during an interview on "The Graham Norton Show."
His drive to eat was also appreciated by his wife, Camila Alves, and three children, Levi, Vida and Livingston. "For six months I had a rule that everyone had to say yes to every desire they wanted 24/7. I was a real 'yes' man," McConaughey said.
In addition to "pizza night" any day of the week, he also allowed himself to consume his less-than- traditional breakfast: "Cheeseburgers and beer for breakfast was a great idea too. I really relaxed on the rules!" he joked.
Depending on a variety of factors — including fat content of beef, size of a burger patty, type of hamburger bun and condiments added — a homemade cheeseburger can range anywhere from around 330 calories to 650 for a supersize version at a fast-food restaurant.
And the beer? A single 12-ounce bottle or can of brew can range from 100 calories for a light version to 150 to 200 for a regular beer or lager.
If McConaughey opted for a supersize burger and two beers for breakfast, he could have easily consumed 1,050 calories — well over the recommended 350 to 500 calories for your morning meal.
It's not surprising that McConaughey wasn't too excited when shooting wrapped and he was faced with the reality of his new physique. "I didn't think about it until I got there, and when I did get there I noticed that quite a lot of fat had really settled in," he revealed. "I did have a few moments when I looked in the mirror and thought,
'This may be it, buddy!'"
McConaughey, who is famous for his grueling commitment to fitness, will likely shed the weight and be back to his chiseled self in no time. In addition to outdoor, calorie- burning exercises like running, swimming and paddleboarding — all of which he likes to do shirtless — the actor is no stranger to the gym and personal trainers.
According to Gunnar Peterson, who helped McConaughey get into the shape of his life to reprise his male stripper role in "Magic Mike 2," the star got fit fast by doing "ADD (attention deficit disorder) cardio," an exercise similar to interval training, but instead of weights in between goes from "cardio modality to cardio modality."
There are, however, health problems that can occur from losing weight too quickly, such as hormone imbalances and immune system suppression. So if McConaughey wants to shed pounds the healthy way, he may want to keep it slow and steady.