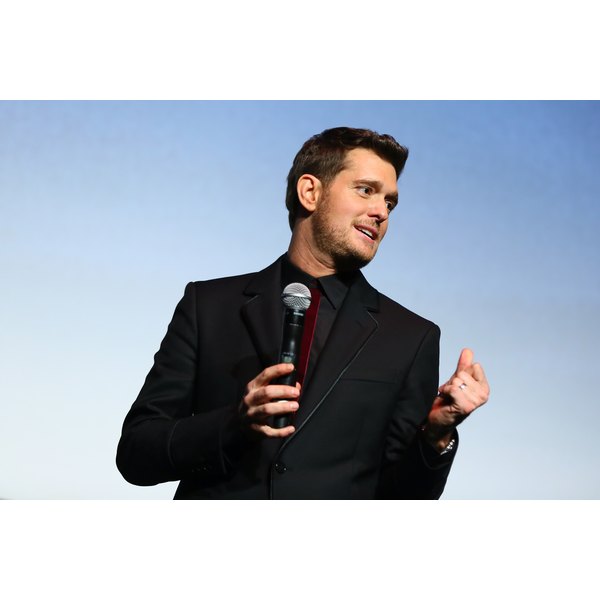 There's nothing more heartbreaking than watching a child suffer. And for Michael Bublé and wife Luisana Lopilato, that fear of all parents everywhere has sadly become a reality with the recent cancer diagnosis their of 3-year-old son, Noah.
The couple, who first opened up about their son's diagnosis this past month on Facebook, confirmed rumors of their son's illness as well as spoke about their family's immense heartbreak.
"We are devastated about the recent cancer diagnosis of our oldest son, Noah, who is currently undergoing treatment in the U.S.," Bublé posted to his Facebook. The singer then went on to say that he and his wife would be putting their careers on hold in order to be with their son during this difficult time. But the crooner did make one appearance to sing a heart-wrenching rendition of the Beach Boy's "God Only Knows" at a benefit for Children In Need.
While there was speculation initially that Noah was suffering with leukemia, the couple revealed that he is actually battling liver cancer. A diagnosis was made after the boy had been sick for some time and received an ultrasound as a precaution.
According to the Daily Mail, Argentinian doctors had thought Noah was suffering from the mumps, but a second opinion in Los Angeles following a liver biopsy confirmed the cancer.
Treatment to shrink the tumor has begun, and as the Bublé family gears up to support their little fighter during this difficult time, they have received an outpouring of love and support from their fans around the world.
From people sending their well-wishes to sharing their own brushes with the disease, the support for the family has been truly inspiring. Here's to hoping the love and support will make all the difference in the family's experience of this difficult time.