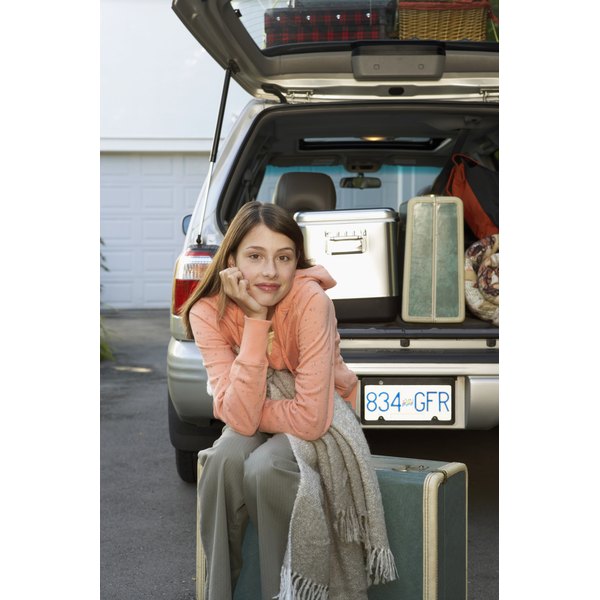 Make sure your teenager feels special on his birthday with a personalized gift that reflects his interests, hobbies and personal style to recognize his individuality. It doesn't matter if you're working on a tight budget because there's no need to break the bank. The size of the gift is not what's important; a simple, personalized gift for your teen will show him just how much he is loved.
Creative Photo Art
You can make decorative, recycled wall art for your teen from metal bottle caps and small photos. Just glue a photo inside each cap, and glue the caps all over a piece of plywood that you've decorated with stencils or words of love. You can make larger photo art for your teen's wall by transferring your favorite mom-and-me photo directly onto the wood with polyvinyl acetate (PVA) or use the same technique to create a photo block on a large square piece of wood instead. You can bind together twigs to make a beautiful, rustic photo frame, and fill it with a picture of your favorite camping adventure together.
Goodies Galore
Make your teen the most popular gal in her group when you surprise her with enough of her favorite treats to share with all her friends. You can make her one of her childhood favorites that she hasn't had in years, or surprise her with a tray full of cookies that she usually only gets at Christmas. If you find your kitchen skills leave you burning rather than baking, head over to the local pastry shop and assemble a box full of her irresistible favorites instead. If your teen loves to do the baking, you can pick her up a personalized chef's apron with her name, or create a box for baking supplies by decorating a tin and filling it with icing gels, sprinkles, chocolate flakes, disposable pastry bags, a set of icing tips, different types of food coloring, colored sugars, edible candy decorations, fondant tools, candy molds and paper cupcake liners.
Showoff Gifts
If your teen's comforter is looking tired and worn, surprise him with a new one for his birthday, made from squares of his childhood T-ball jerseys and other sportswear you've saved over the years. You can showcase a special jersey from a winning championship, instead, by framing it in a jersey display frame. If your teen has trophies and awards stashed away in boxes, purchase or make a display case, and fill it with all of his special mementos. If your teen prefers his position as an armchair sports fan, look for a few pieces of signed memorabilia from his favorite teams to display in the case and to start a lifelong collection. If your teen is a travel buff instead of a sports fan, make a wall board from cork board and tack up some of the souvenirs you've collected on family vacations over the years. Leave some areas blank so he can add to the collection as he travels to new places, and tack up a pair of tickets to somewhere within your budget so the two of you can start the new additions right away.
Unforgettable Experiences
Surprise your teen with a fresh adventure, or help her to learn something new this birthday. You can present her with an experience she'll never forget, because it's catered to her personality. Send your young daredevil soaring through the air on her first canopy zip-line tour or tumbling down a mountain in a giant PVC ball -- also known as globe riding. You can enroll an equestrian lover in a season of horseback riding lessons, or let your young beauty queen unleash her inner diva at a photo shoot after a professional makeover. If she is more concerned about the pampering than the pictures, present her with a day at the spa for two so she can take her best friend along for the experience, too. If you are feeling extremely generous, take your nature enthusiast teen on a weekend-long camping trip or opt for an overnight stay at an upscale hotel instead, if your teen doesn't "do" camping.