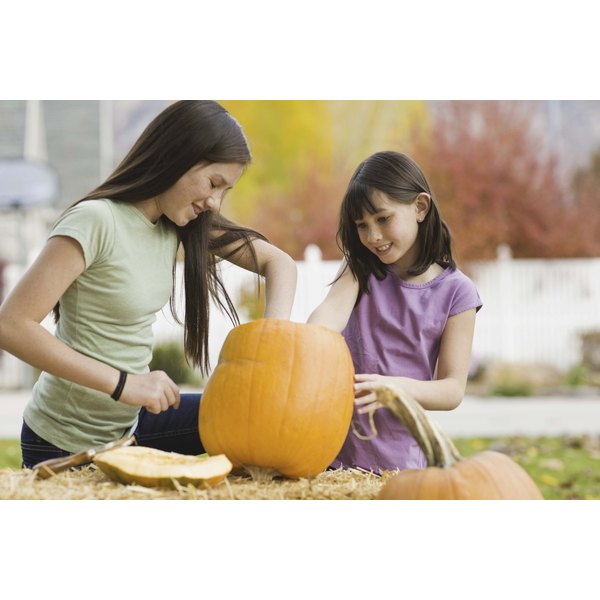 Teenagers are too old for door-to-door trick-or-treating but they're still young enough to enjoy celebrating Halloween in all its spooky glory. Costumes, scary thrills and, yes, even candy needn't be confined to the under-12 set; they just need to be recast into a more age-appropriate format. Planning an activity ahead of time will also help prevent your teen from getting into the wrong kind of mischief on All Hallow's Eve.
Throw a Party
Whether it's an informal gathering of friends for scary movies and popcorn, a pumpkin-carving party, an all-night slumber party or a fancy affair complete with costumes and frightful treats, a Halloween party offers teens a chance for age-appropriate holiday fun. Let your teen decide what kind of party to throw and let her handle the bulk of the planning, too, including the invitations. You can help with the day-of preparations and act as host-slash-chaperone.
Visit a Haunted House
We're not talking about genuine haunted houses here but rather the once-a-year spooky thrills kind. Odds are you should be able to find a haunted house in your area, sponsored by a church or community group. Let your teen invite his friends along to go as a group. Alternatively, your teenager can organize his own "haunted house" -- in your house. Stuff straw or old rags into pieces of clothing to create mock dismembered limbs and hide them in the back yard. Use black lights and purple and orange holiday lights for decor. Paint some sheets with glow-in-the-dark paint or black or silver spray paint; you can always spatter red paint on there, too. Teens can use the sheets plus furniture, cardboard boxes, broom handles and other handy items to create a spooky maze through as many rooms of the house as you let them commandeer.
Hand Out Candy
If your house sees a lot of trick or treaters, it can be fun for your teen to dress up in a costume -- especially a scary one -- and help hand out candy to younger kids who come to visit. Think zombies, werewolves, witches or ghosts, but also consider more unusual choices like evil clown, giant spider or demonic butcher. Your teen can add spooky sound effects and porch decorations to add to the ambience -- in other words, turn it into a craft project. Trick-or-treating hours are usually early enough that this option can be combined with other possibilities, such as a low-key movie party at your house or a pumpkin-carving event.
Take Care of Younger Kids
Another alternative, if your teenager has younger siblings or babysits a lot, is to act as chaperone for younger kids as they go trick-or-treating. This is a great excuse for tandem costumes, by the way -- think Red Riding Hood and the wolf (or grandma, or the woodsman), Batman and Robin, Darth Vader and a stormtrooper, or the Emperor. This option is best for older teens who are ready for the responsibility. Make sure that your teen has his phone with him -- fully charged -- as well as emergency contact numbers to call. Give him a flashlight, too.