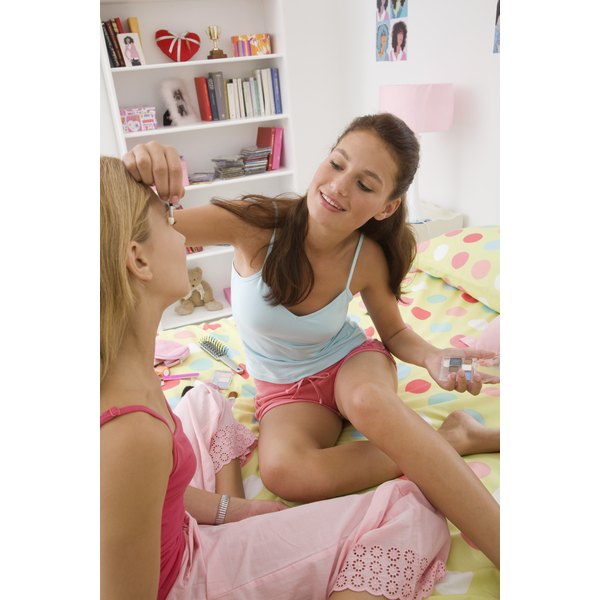 Sleepovers are a common activity among teen girls and they invite long evenings of giggling, bonding and making memories that will last a lifetime. If your teen daughter is planning a slumber party, keep the girls entertained by planning a few activities ahead of time. Not only will you get to participate in the sleepover a small amount, but you'll get to spend quality time with your daughter as you make the big plans.
Beauty Activities
Most teen girls welcome the chance to pamper themselves, and beauty-related activities are usually a hit at slumber parties. Perhaps your teen and her friends would enjoy giving each other manicures or pedicures. Teen girls might also enjoy giving each other makeovers with eyeshadow, blush and lip gloss. Purchase inexpensive at-home facials for the girls, too. Slice up a fresh cucumber to make the facials more entertaining and authentic. Give your daughter and her friends free reign of the bathroom to give each other new hairstyles, as well.
Arts and Crafts
Arts and crafts aren't just for little girls, and many teen girls enjoy doing art projects, too. Provide inexpensive beads and string and let the girls make their own jewelry. Perhaps the girls would like to make friendship bracelets for each other, too. Purchase a tie-dying kit and let the girls make T-shirts, socks or pillowcases. Ask each guest to bring a pair of rubber flip flops and give them rhinestones to glue onto them. In addition to a tangible memory of their fun, your daughter and her guests will also have memories of creating things together.
Games
In addition to the classic sleepover games such as Truth or Dare and 20 Questions, encourage the girls to add other games to their repertoire. Charades can inspire fits of laughter while board games and card games encourage a bit of friendly competition. Your daughter can ask her friends to bring their favorite games, too. Hook up a video game system and let the girls face off against each other. If you have a system that encourages physical activity, the girls might like to play games such as bowling or tennis.
Additional Activities
Encourage the girls to perform skits or plays for each other or put on music so your daughter and her guests can pretend to hold concerts or just sing along together. If you have several fancy evening gowns, let the girls try them on and put on a fashion show for each other. Ask the guests' mothers if they have gowns to lend the girls for the evening. When the girls get hungry, give them access to the kitchen to make their own snacks. The girls could make tea sandwiches with cream cheese and fruit or nonfat yogurt with a variety of fruit toppings as some healthy options.