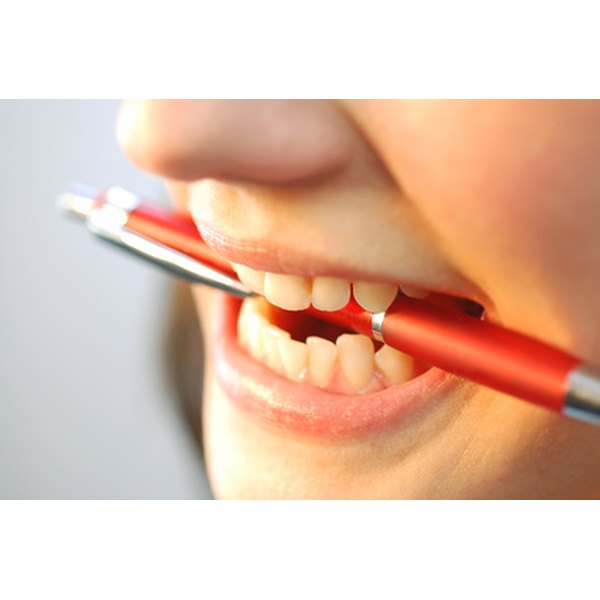 Improve your smile in just one day by using an over-the-counter whitening kit. While these kits do not provide the same whitening as you can receive in the dentist's office, they are less expensive and can be used immediately. Common whitening products include whitening toothpastes, rinses, strips and trays. Whitening kits with trays and concentrated bleaching gel work the quickest and should be used when you want to see a noticeable difference within one day.
Brush teeth using toothpaste designed for sensitive teeth.
Squeeze concentrated gel into tray. When squeezing the gel into the trays, take care to use enough gel that it covers your teeth, but not so much that it overflows onto your gums.
Insert tray into your mouth. If any gel squeezes out onto your gums, wipe it away with a cloth.
Set a timer for the length of time specified by the directions.
Remove the trays when your time is up.
Use a toothbrush to lightly brush any excess gel off your teeth.
Rinse trays immediately. Gel can harden and stick inside the trays if they aren't cleaned.
Tips
Read the instructions that come with your kit before using.
While you should notice brighter teeth in just one use, expect full results within one month of usage.
If you desire even greater results make an appointment with your dentist for professional whitening. One 30 to 60 minute professional treatment will create noticeable results you cannot replicate at home.
Warnings
Consult with your dentist prior to using an at-home whitening kit. Teeth that have been restored such as capped teeth can react differently to whitening kits. Generally the restored tooth does not lighten as a result of the kit.
Whitening your teeth can also cause gum irritation and tooth sensitivity.
Whitening kits should not to be used by women who are pregnant or breastfeeding. Nor should they be used by children younger than 16 yrs, or those with gum disease.