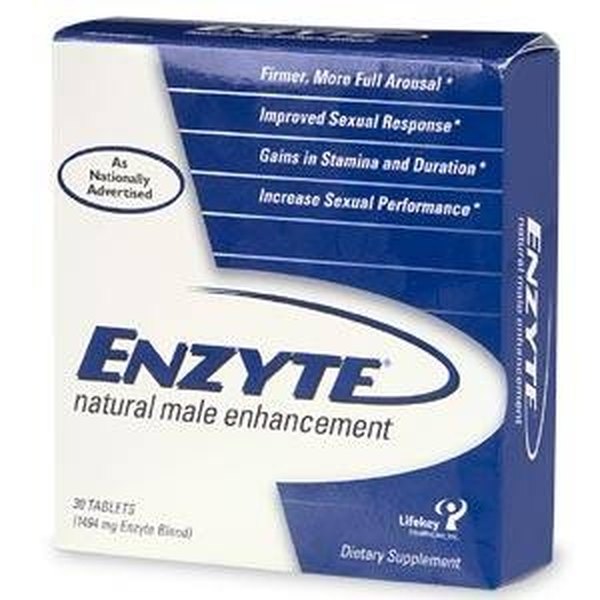 Ingredients
Berkeley Brands, the maker of Enzyte, is very clear that its product is manufactured and marketed to men. Therefore, it is not recommended that a woman ingest Enzyte. Even with this knowledge in place, however, some women may be tempted to try Enzyte to see if the same effects it supposedly has on men will be produced in them. Though it is logical to assume that a drug that may stimulate one individual will stimulate another, this is not the case with Enzyte, as it targets a man's sexual organs, thereby rendering it ineffective on women.
Berkeley Brands claims that Enzyte can provide male enhancement by improving blood flow and circulation, which it believes will enhance a man's physical stamina and performance. Berkley claims it improves circulation and blood flow through ginkgo biloba (which can widen capillaries), goat weed extract (which may increase testosterone secretion), and tribulus terrestris (which can also increase testosterone levels). Being that these key ingredients are aimed at increasing male hormones and improving blood-flow circulation to the penis, it is not likely to have any positive effect on a woman.
Furthermore, a woman with high blood pressure, heart problems, poor circulation problems, aversions to caffeine, and certain allergies should actively avoid Enzyte, as its ingredients may worsen a pre-existing condition.
A woman who accidentally ingests Enzyte--yet does not have any of the above-mentioned problems--is not likely to experience any change in sensation. She should, however, seek medical attention if she has taken more than the recommended dose or if she experiences a sudden change in blood pressure, heart palpitations or extreme jitters.
Unknown Results
Enzyte divulges that the claims it makes and the product it distributes have not been evaluated by the Federal Drug Administration, which means that there may be far more to know about this drug than what is currently advertised on the official Enzyte Website. Because of this, it is not recommended that females ingest Enzyte, as the company makes no claims that it will stimulate sexual arousal in females, and it cannot even guarantee that it will stimulate sexual arousal in males.
Pregnancy
Many of Enzyte's active ingredients--including ginkgo, ginseng, saw palmetto, horney goat weed, bee pollen, and tribulu terrestris--are not supposed to be ingested by a woman who is pregnant or thinks she may be pregnant. Although these ingredients are commonly labeled "natural herbs," they can cause birth defects and should be avoided, meaning that Enzyte should also be avoided.
According to eMedTV, Enzyte should also not be ingested by women who are breastfeeding, because no studies have been performed to determine whether its ingredients may be secreted in breast milk or may be harmful to small children. Until this information is available, women who are breastfeeding should avoid contact with the Enzyte drug.