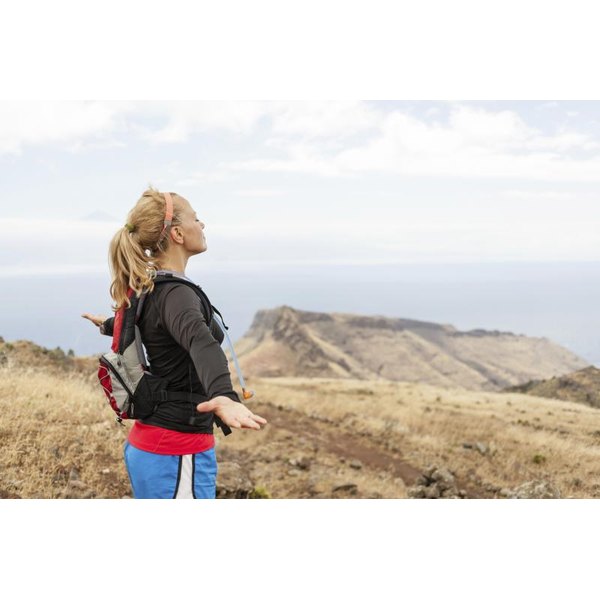 CamelBak has been making hydration accessories and sports equipment for 25 years and is best known for its hydration packs, which uses a flexible water bladder connected to a drinking tube to deliver water during high-intensity or endurance activities. Using a CamelBak hydration pack during your extended workout can keep you hydrated while allowing your hands to be free for other uses. Keeping your pack clean prolongs its life and keeps your water tasting fresh.
Using a CamelBak
Use the hydration bladder in a specialized hydration pack or in any other backpack that has an internal pocket for a hydration system. Most modern backpacks also feature a port for a drinking tube to pass through the outside of the pack and attach to a shoulder strap for quick access. A large opening at the top of the hydration bladder allows easy filling and cleaning. Open the CamelBak's bite valve with a light pinch, and lock it with the valve switch to prevent accidental leaking.
Keeping Things Fresh
Clean and dry your CamelBak water bladder after every use to prevent foul-tasting water. Mold or discoloration might develop if you don't clean it regularly. If mold does develop, fill the bag with a solution of hot water and CamelBak cleaning tablets or two tablespoons of bleach or baking soda. After letting the cleaning solution sit for 30 minutes, use one of CamelBak's narrow cleaning brushes to scrub the inside clean and thoroughly rinse the bladder before your next use.