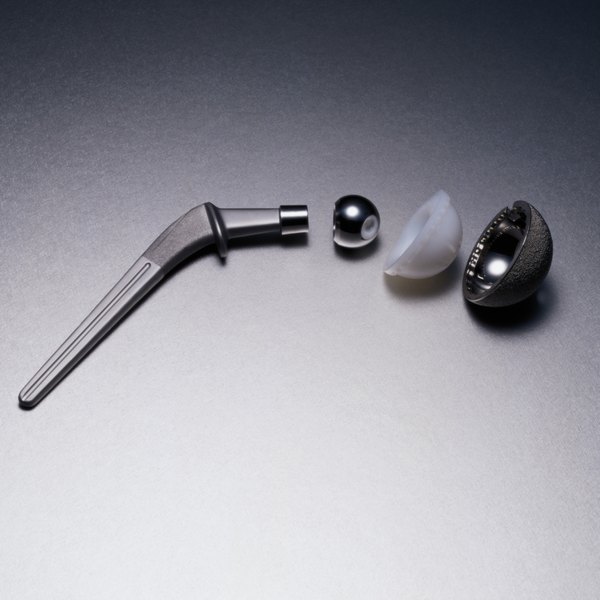 When choosing a hip replacement prosthetic, you need to know which ones will last the longest and have the lowest failure rate. You and your orthopedic surgeon should discuss the benefits and risks of each implant type. The main difference among prosthetic options is the type of material used to replace the hip. Your age, weight, activity level, type of hip injury or disease, and severity of hip arthritis are all factors that influence which implant is best for you.
Metal-on-Metal
One option for total hip replacement is a metal-on-metal prosthesis. This implant consists of a metal socket, a metal ball that goes into the socket and a metal stem that goes into the thigh bone. The metal-on-metal prosthesis reduces your risk of dislocation following surgery. Also, your new hip will have a low wear rate, which increases its longevity. However, when the ball and socket rub together during movement, some pieces of metal may come off and damage nearby bone and other tissue. This can be painful and possibly lead to implant failure.
Metal-on-Polyethylene
The most common type of hip replacement implant is the metal-on-polyethylene prosthesis, which consists of a ball and stem made of metal and a socket made of polyethylene, a type of plastic. Highly cross-linked polyethylene is a newer type of plastic that produces less wear at the hip joint compared to traditional polyethylene. However, highly cross-linked polyethylene does not have the same fracture-resistant properties as traditional implants. Also, the particles coming off of the cross-linked polyethylene may be more biologically active. These bioactive particles can lead to inflammation and possible bone changes, potentially resulting loosening or failure of the new hip.
Ceramic-on-Polyethylene
For younger patients, a ceramic-on-polyethylene prosthesis may be a preferred choice because of its durability. This type of prosthesis includes a ball made of ceramic material and a polyethylene socket. The main benefit of this type of prosthesis is reduction in joint wear compared to a metal-on-polyethylene prosthesis. The ceramic material remains better lubricated than other prosthetic materials. This type of hip prosthesis is more costly than others.
Ceramic-on-Ceramic
Another prosthetic option is the ceramic-on-ceramic hip implant. Your hip replacement will include a ceramic ball and a socket with ceramic lining. Because all material is ceramic, this type of prosthetic has the lowest wear rate out of any device. Also, fewer particles are released from the prosthesis during movement and the particles are not as biologically active as those from other types of implants. A potential drawback of this implant is a risk for fracture of the ceramic head and socket. Squeaking is another issue with a ceramic-on-ceramic prosthetic. This can be a nuisance and increase your chance of a revision surgery.