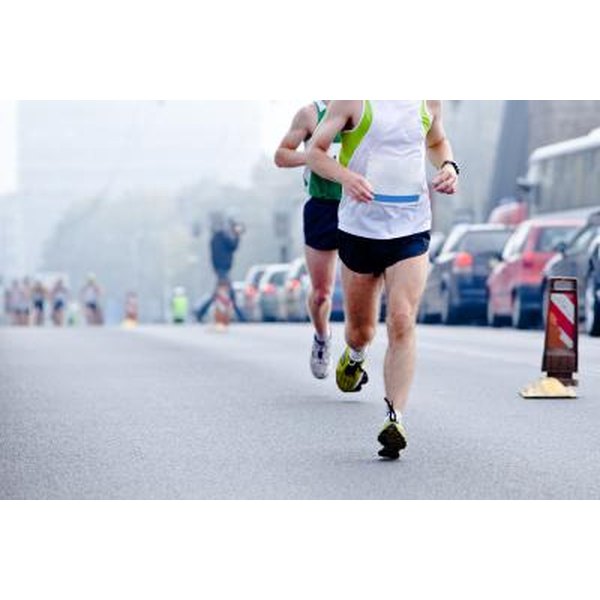 Running a 5k race, which is 3.1 miles, is the first step toward running longer distances and building better cardiovascular health. Often, training for a 5k requires six to eight weeks, especially if you're a beginner. If you need to whittle training time to four weeks, be sure to listen to your body to avoid injury. You may have to accept a slower time now, but you can improve with more training.
Step 1
Map a route. Find a 5k route already mapped on a local jogging trail or track. Check online trail routes or maps at a local community club or gym. You can also use online tools to estimate the distance. Try to find a loop, where you start and finish in the same place. You don't want to run 5k, be exhausted, then have to get home. You may not cover all the ground, but it will help you gauge your progress.
Step 2
Use the run/walk method. Don't expect to run the whole distance at once. For the first week, pace yourself by alternating walking for two minutes and jogging for one minute, aiming to repeat at least five times. Do this three times a week on non-consecutive days to give your body time to recover between training sessions. On the second training week, run three minutes and walk three minutes, repeat at least four times. For week three, decrease walking time to two minutes, but run eight minutes, repeating at least three times. For the fourth week, try running as much as possible, only walking when you need a break. Don't worry about speed; just get distance under your feet. You're compressing your training into four weeks, so go easy on yourself.
Step 3
Try cross-training. Cross-training is using another activity to build cardiovascular endurance using different muscles or motions. This helps you build endurance while taking stress off your muscles. Good cross-training ideas include swimming, soccer, biking and squash. Cross-train two days a week between your running days.
Step 4
Remember to rest. Your body needs time to recuperate. Use one day a week to rest. Even on rest days, remember to eat well to fuel your body for the whole week. You're expending more calories and taxing your body, so treat it well.