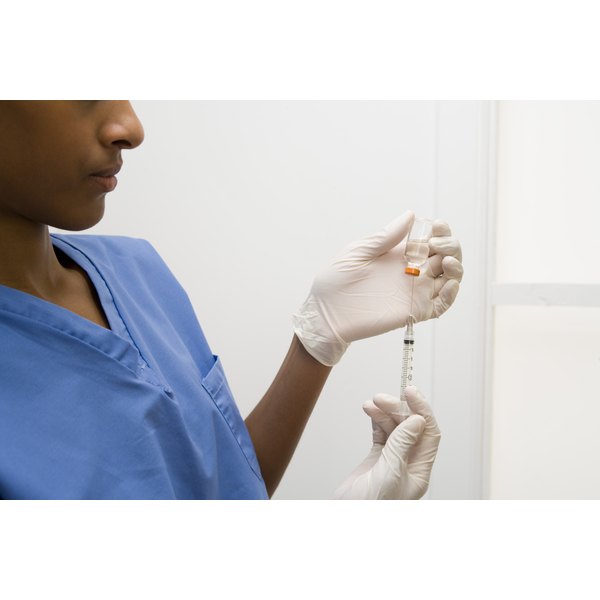 The term iatrogenic anemia describes anemia resulting from repeated blood collection for diagnostic testing. It most commonly affects hospitalized patients, particularly the very young or critically ill. Iatrogenic anemia can adversely affect a person's recovery, and may have serious consequences for those with heart or lung disease. Health care professionals can help prevent this condition by avoiding excessive blood sampling and taking the smallest blood samples possible for laboratory tests.
How Iatrogenic Anemia Occurs
Iatrogenic anemia -- also known as nosocomial anemia, investigational anemia or hospital-acquired anemia -- results from blood loss that occurs from collecting samples for laboratory testing. According to an article published in the June 2005 issue of "Journal of General Internal Medicine," blood sample collection is associated with declining levels of hemoglobin, the oxygen-carrying protein in red blood cells, and red blood cells, both of which may contribute to the development of anemia.
Incidence and Consequences
Although data regarding the incidence and prevalence of iatrogenic anemia are somewhat lacking, Mayo Medical Laboratories notes this type of anemia is not uncommon. It most frequently affects seriously ill hospitalized patients who require frequent blood tests and infants with small blood volumes. Iatrogenic anemia may result in significant illness or death in patients with diseases of the cardiovascular system.
Symptoms
Iatrogenic anemia leads to iron deficiency. Because iron is needed to transport oxygen to tissues, iatrogenic anemia may cause symptoms associated with lack of oxygen. Examples include shortness of breath, chest pain, fatigue, dizziness and an irregular heart beat. Additional symptoms may include a pounding or whooshing sensation in the ears, pale or yellow skin, and cold hands or feet, notes the American Society of Hematology.
Prevention
An article published in the "European Heart Journal" in September 2007 notes the key to preventing iatrogenic anemia is blood conservation. This may be achieved by avoiding taking blood samples from a patient unless absolutely necessary, collecting only the minimum volume required to perform a particular diagnostic test, reducing the frequency of blood sampling and using small blood volume containers. An article published in "Journal of General Internal Medicine" in June 2005 adds that educating doctors and nurses about the potential risk of iatrogenic anemia may also help prevent this condition.