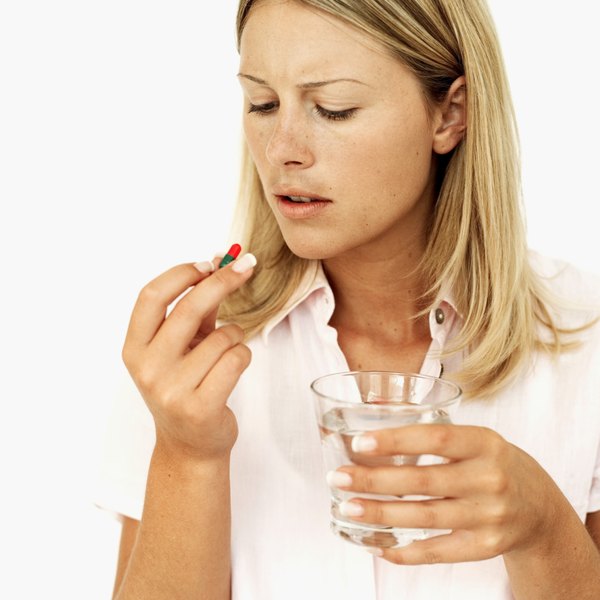 Garcinia cambogia is marketed as a weight-loss supplement and is sometimes listed as hydroxycitric acid in ingredients lists. Proponents claim it helps decrease the absorption of fat in the body, although the evidence for this is still very preliminary and based mainly on laboratory studies. Check with your doctor if you're considering trying this supplement, as it isn't safe for everyone and can cause side effects.
Common Side Effects
In studies using garcinia cambogia, side effects experienced by a small number of participants included dizziness, dry mouth, headache, nausea, stomach pain and other types of gastrointestinal symptoms, such as nausea and diarrhea. As with any supplement or medication, eMedTV notes that allergic reactions to garcinia are possible, which can mean a rash, itching, swelling and difficulty breathing. If you're experiencing allergylike symptoms, seek immediate medical attention.
Liver Problems
A popular weight-loss supplement containing garcinia cambogia was recalled in 2009 due to reports of liver toxicity in people using the supplement. In cases where the liver function abnormalities were discovered early, liver function returned to normal after people stopped the supplement, according to a case report published in the World Journal of Gastroenterology in April 2009. However, even though only a small number of people reported problems, the problems were severe in some cases, leading to liver transplants and at least one death.
Medication Interactions
Garcinia cambogia can interact with a number of medications, changing the effectiveness of the medication and making the risk of side effects more likely, so check with your doctor to make sure it is safe for you. These include the blood thinner warfarin, statins, serotonin, iron supplements, diabetes medications, and potassium and calcium supplements.
No Proven Benefits
While serious side effects from garcinia cambogia aren't common, the evidence for the benefits of this supplement isn't conclusive. A systematic review published in The American Journal of Clinical Nutrition in 2004 concluded that the evidence for weight loss with garcinia cambogia or its active ingredient hydroxycitric acid is conflicting and not compelling. A better alternative would be to follow a healthy reduced-calorie diet and increase your daily exercise to help you lose weight. Only take supplements after talking to your doctor.