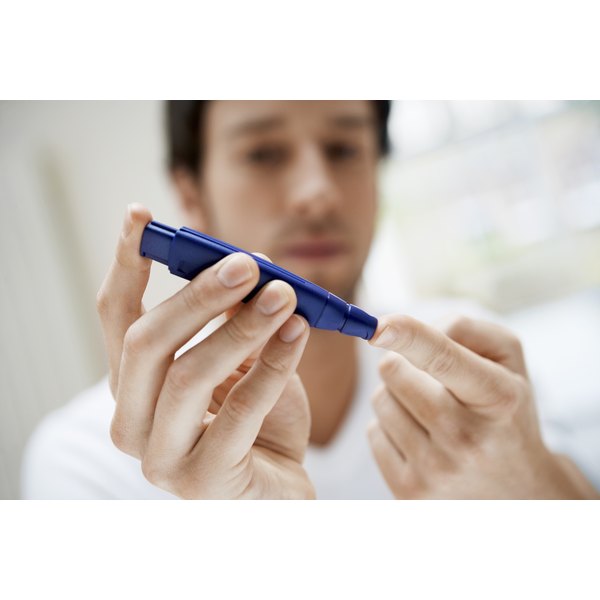 While illness and stress can cause elevations in blood sugar, high blood sugar is often associated with diabetes. After ruling out other causes, if you have diabetes and your blood sugar is running high, you may need to make some adjustments to your diet. Talk to your dietitian or doctor to help you gain better control over your blood sugar and discuss diet and exercise needs.
Fewer Carbs
Foods with carbohydrates affect blood sugar levels the most. That includes foods from the fruit group, starchy vegetables and grain group and milk and yogurt group. If you're eating too many carbs at a meal, it may increase your blood sugar levels. Your doctor or dietitian can help you determine the amount of carbs to have at each meal.
Forty-five to 60 grams of carbs at each meal is a good place to start, advises the American Diabetes Association.
Each of the following contains 15 grams of carbohydrates:
one slice of bread
1/2 cup of cooked oatmeal, peas, beans or potato
1/3 cup of cooked rice or pasta
four to six crackers
half an English muffin or hamburger roll
4-ounce piece of fruit
1/2 cup of canned fruit packed in its own juice
6-ounce container of sugar-free yogurt
1 cup of milk
1 cup of soup
More Low-GI Carbs
When it comes to better blood sugar, not all carbs have the same impact. Eating foods with a lower glycemic index, which are carbs that only cause a slight rise in blood sugar over a longer period of time, may also be beneficial when trying to lower blood sugar. The Harvard School of Public Health reports that eating low-GI foods helps people with type-2 diabetes gain better control over their blood sugar and their weight.
Foods with a low-GI -- 55 or less -- include barley, 100-percent whole-grain bread, corn and wheat tortillas, oatmeal, barley, bulgur, milk, yogurt, apples, grapefruit, oranges, peaches, pears, beans, lentils and pasta.
Load Up on Nonstarchy Vegetables
Nonstarchy vegetables are low in carbs and calories and can help fill you up without having much of an impact on your blood sugar. Plus, they're also rich in fiber, vitamins, minerals and phytonutrients. The American Diabetes Association recommends you aim for three to five servings a day. Good choices include broccoli, mixed greens, spinach, cucumbers, carrots, peppers, celery and eggplant. A serving size is equal to 1/2 cup cooked or 1 cup raw.
Talk to your doctor or dietitian about counting the carbs in nonstarchy vegetables if you eat more than 1 cup of cooked or 2 cups of raw.
Carb-Controlled Meal Plan
It's still important to eat regular meals even when dealing with elevated blood sugars. A healthy breakfast might include two slices of 100-percent whole-grain toast with 1 tablespoon of peanut butter and a 6-ounce container of nonfat, sugar-free yogurt. This meal has 385 calories and 45 grams of carbs.
Stuff one 6-inch pita with 1/2 cup of hummus, sprouts and shredded carrots and serve with 1 cup of mixed greens topped with six almonds and 1 tablespoon of vinaigrette for a low-GI, carb-controlled lunch. This meal has 480 calories and 45 grams of carbs.
At dinner, enjoy 3 ounces of grilled salmon with 2/3 cup of cooked barley and 1/2 cup of peas with 1 cup of mixed greens topped with 1 tablespoon of salad dressing, for 475 calories and 45 grams of carbs.
Cinnamon and Green Tea
Some evidence indicates cinnamon and green tea may also help lower blood sugar levels and aid in long-term control. The Memorial Sloan Kettering Cancer Center reports that cinnamon activates insulin receptors, which may aid in blood sugar control. The studies involving cinnamon and blood sugar in people with diabetes have been mixed, the cancer center notes, however.
The catechins in green tea may inhibit sugar absorption, as well as imitate insulin to help lower blood sugar levels, according to the Pacific College of Oriental Medicine.
Talk to your doctor before adding cinnamon or green tea to your diet plan.