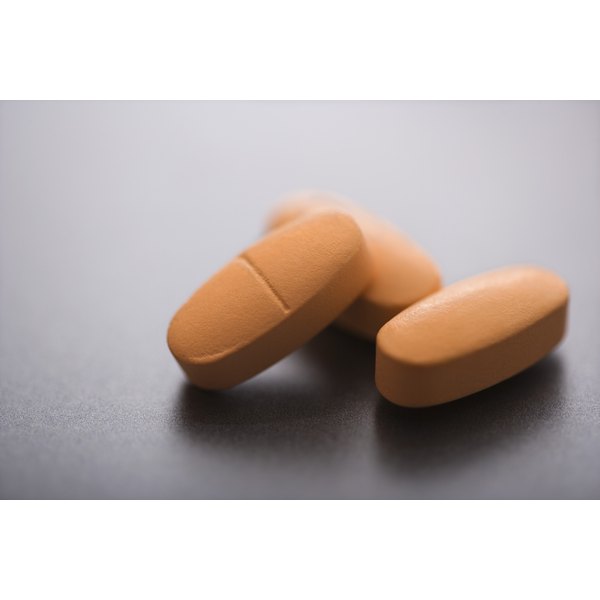 Vitamin B12, also referred to as cobalamin or cyanocobalamin, supports the human body in preserving healthy nerve cells. Our bodies also churn out DNA and RNA with the help of B12. The average adult, 19 years of age and older, should consume 2.4 mcg per day. Foods containing the vitamin include fish, meat and dairy. Being water soluble, it's easy to rid the body of excess B12 should too much become ingested. However, too much B12 can disrupt the body in dangerous ways; therefore, you should not take it thoughtlessly.
Cardiovascular Difficulties
By far, heart complications subsist as the most dangerous side effects to have and possibly the scariest. Symptoms consist of: shortness of breath or difficulty breathing; increased heart rate or heart palpitations; pain in the arms and legs; numbness in the arms, all of which are also symptoms of congestive heart failure, which is another danger of high B12. Peripheral vascular thrombosis or rather, clots in the blood vessels and pulmonary edema can present major risk factors.
Behavioral Issues
The mental disorders that one can develop may be the most menacing of side effects because they affect the mind. They include anxiety, nervousness, insomnia and panic. These side effects can also raise your heart rate, shorten your breath, cause tightness in the chest and make you feel as though you're experiencing cardiovascular weakness as well. Knowledge of stress management and breathing techniques would help in this situation; however, if the anxiety, nervousness, or panic attacks cause respiratory problems or pain, you should notify your doctor as soon as possible.
General Physical Upsets
Ailments that may come over a person after ingesting too much B12 are diarrhea, headache, dizzy spells, indigestion, upset stomach, vomiting, back pain, swelling and arthritis. Additionally, lack of coordination, skin rashes and hives, mild to severe acne, rosacea and dermatitis could slightly impede a person's feeling of well being. All of these symptoms may or may not lead to anything detrimental; however, they merit a consultation but your family physician. At the very least, the doctor could offer a solution to soothe the ailments until the body has detoxified itself.