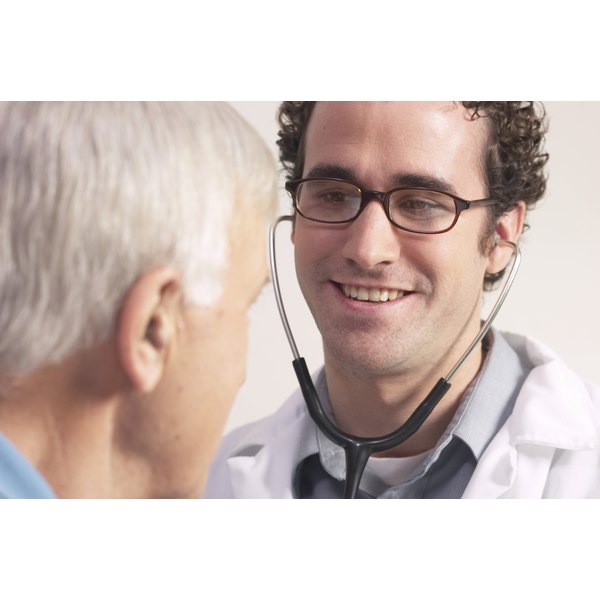 Aspergillus, or fungus, is a common mold in your environment. Aspergillus, for instance, can be found in soil, household dust or even food like spices. Typically, your body rids itself of the aspergillus you inhale. However, if you have a weakened immune system caused by conditions like asthma or cystic fibrosis and diseases such as emphysema, fungus in your lungs can lead to allergic bronchopulmonary aspergillosis (ABPA). As a result, you develop aspergilloma. This is a growth or fungus ball which develops in your lungs. The fungus growths are usually cured via medication.
Cure Fungus Growth in the Lungs
Know the symptoms. With ABPA, you may have symptoms similar to those of asthma. For instance, you may experience wheezing, shortness of breath or coughing. Other symptoms associated with the infection are fever, producing brownish mucus plugs or blood with coughing, and weight loss, according to Medline Plus. Generally, you may feel tired or ill and have repeated periods of airway obstruction.
Seek treatment. Doctors will cure your fungus growths, or ABPA, with antiasthma drugs. These drugs include prednisolone, prednisone and methylprednisolne which are all oral corticosteroids. Inhaled corticosteroids do not work well for fungus growths, according to the Merck Manual. Oral corticosteroids will clear out the mucus and fungus in your lungs and open up your airways. Also, according to the Merck Manual, your doctor will prescribe the oral corticosteroids in high doses first then steadily decrease them to prevent lung damage. In addition, you may receive an antifungal drug such as itraconazole to extricate your fungus growths.
Use additional treatment to cure invasive fungus in your lungs. According to the Center for Disease Control (CDC), the first-line of defense in curing invasive fungus growths is the medication voriconazole. This is an antifungal medication. Voriconazole is administered either via IV or orally. If you are allergic to voriconazole or you aren't improving while on the medication, other antifungal medications can be used instead. These drugs include itraconazole or amphotericin B, according to Medline Plus. This course of treatment lasts approximately several weeks. However, according to the CDC, any immunosuppressive medications your doctor prescribed will need to be either discontinued or decreased.