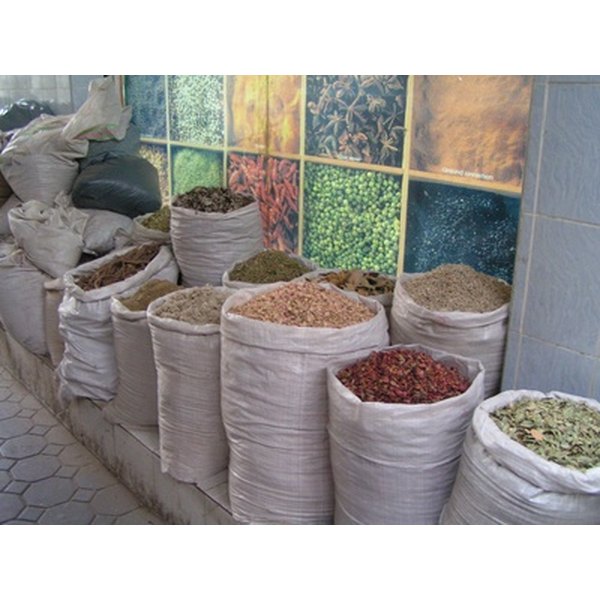 Trichomonas vaginalis is a single-celled protozoan that commonly infects the vagina and the male urethra or urinary canal to cause a sexually-transmitted disease known as trichomoniasis. Common symptoms in men include penis irritation, mild discharge and burning sensation after urination or ejaculation, while women experience frothy, yellow-green vaginal discharge with strong odor. Anti-parasitic medications such as metronidazole and tinidazole may be prescribed to treat the condition. Certain herbs may help manage trichomoniasis naturally.
Pulsatilla
Water-based extracts of the Pulsatilla chinensis plant exhibit significant trichomonacidal activity by rupturing the cell membranes of the parasite, according to a study published in the 2003-06 edition of the "Chinese Journal of Parasitic Disease Control." Pulsatilla is generally available in powder, tablet, capsule and liquid extract form and is made from the dried, aboveground parts of the plant. The supplements are generally safe to use, although mild side effects such as irritation of mouth, throat and digestive tract may occur. To avoid possible adverse reactions and drug interactions, it is best to talk to a doctor before using pulsatilla to treat trichomoniasis.
Goldenseal
To avoid the side effects associated with regular anti-parasitic medications, apply goldenseal root tea to the vagina with a clean cloth or drink it to effectively treat trichomoniasis, recommends James A. Duke, author of the book "The Green Pharmacy Anti-aging Prescriptions." To make the tea, boil 3 g of goldenseal or Hydrastis canadensis root in water and strain out the herb after letting it stand for 10 minutes. Side effects are rare and may include nausea and vomiting. As with other herbs, remember to consult a physician before using.
Tea Tree Oil
Tea tree oil may be effective in inhibiting the growth of pathogens responsible for vaginal infections, such as Trichomonas vaginalis and Candida albicans, says Ronald Klatz in the book "The New Anti-aging Revolution." Tea tree oil is potentially toxic when taken internally so should always be applied topically on the vagina. However, it may lead to skin irritation in some cases; thus, use only under medical supervision.
Garlic
Garlic extracts can significantly inhibit the growth of Trichomonas vaginalis in the laboratory, according to a study published in the autumn 2009 edition of the "Journal of Gorgan University of Medical Sciences." However, clinical trials are lacking and more research is perhaps needed to prove this in actual clinical cases. Until then, do not use garlic without consulting a doctor.
Berberine
Berberine extracted from the plant Berberis aristata was as effective as the anti-parasital drug metronidazole in inhibiting the growth of Trichomonas vaginalis in the laboratory, indicated another study published in the December 2001 edition of the "Journal of Egyptian Society of Parasitology." It can also lead to potentially fewer side effects. However, since the benefits of berberine remain unproven in actual clinical cases, it is important to consult your doctor.