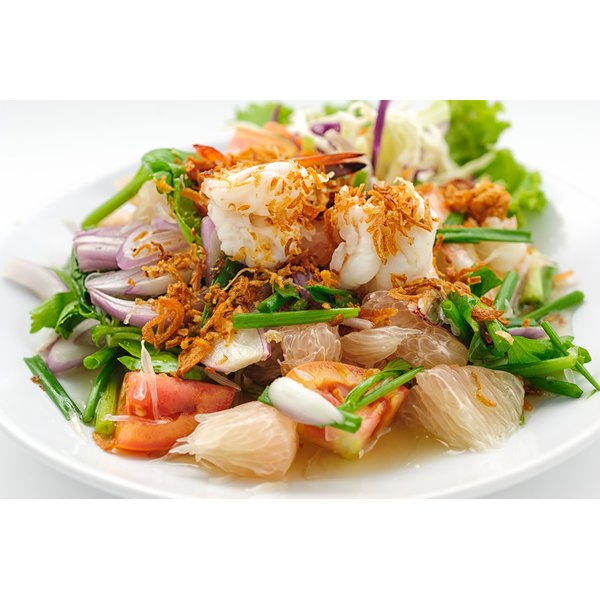 Using diet as a complementary and alternative treatment for attention deficit hyperactivity disorder remains controversial. To date, there is no specific diet scientifically proven to treat ADHD. Some dietary therapies focus on eating high-protein foods and complex carbohydrates and eliminating added sugar and artificial sweeteners. Some researchers theorize that eating too much sugar may contribute to symptoms of ADHD.
Fast Food vs. Healthy Food
Researchers examined various dietary patterns to determine whether a certain pattern of eating is linked to an increased risk of ADHD symptoms in children. They found that the "snack" pattern -- characterized by a high intake of fast food and processed meats -- is linked to an increased risk of ADHD. In contrast, a traditional, healthy eating pattern -- characterized by a diet low in fat, high in healthy carbohydrates and rich in minerals and essential fatty acids -- was linked to a lower risk of ADHD.
Breakfasts and Snacks
Choose foods as close to their natural state as possible because food additives may aggravate symptoms, recommends nutritionist Marcia Zimmerman in "The A.D.D. Nutrition Solution." Start with a high-protein breakfast, such as an egg and vegetable omelet with low-fat cheese. Other good breakfast options include natural, unsweetened yogurt with fresh berries and granola and old-fashioned oatmeal with skim milk and fruit. Pack healthy snacks to eat between meals, such as low-sodium mixed nuts, hard-boiled eggs, low-fat string cheese, low-sodium sunflower seeds and no-sugar-added peanut butter on whole-grain bread.
High-Protein Entrees
Pack easy to carry, high-protein lunches. Some ideas include homemade beef and vegetable soup with whole-grain crackers and an apple; black bean and veggie-stuffed whole-grain tortilla wraps with low-fat cottage cheese and peach slices; and grilled chicken sandwich with Greek yogurt and almonds. High-protein dinner options are Sloppy Joes with 99 percent lean ground beef on a whole-grain bun; spaghetti and meatballs with whole-grain pasta and veggies; and veggie stir-fries with shrimp or tofu.
Power Protein Shopping
To build meals around protein, add go-to protein foods to your shopping list. Get lean cuts of beef, poultry and seafood for hearty dinners, or tofu and legumes for meatless fare. Grab low-fat milk, yogurt, cottage cheese, eggs, cream cheese, string cheese and unprocessed cheeses like havarti, Swiss and colby from the dairy aisle. Include crackers, tortillas, bread and pita bread made from 100 percent whole grain, and choose a variety of nuts and seeds, as well as nut butter with no added sugar. Check for all-natural, low-sugar health bars for on-the-go snacks, and get an array of fruits and vegetables.