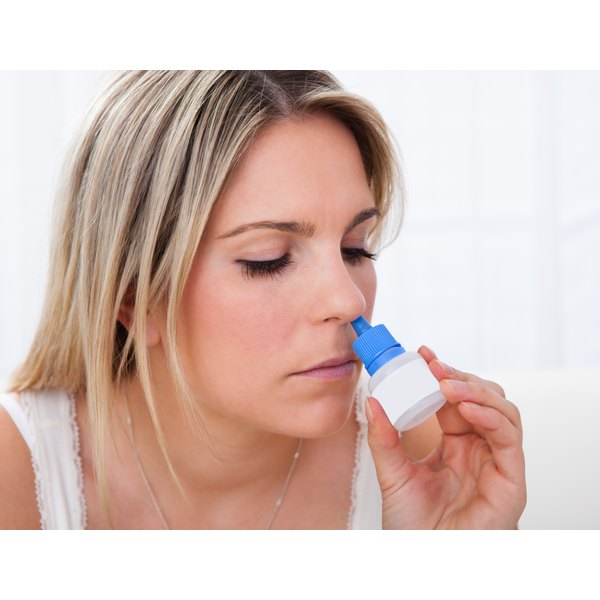 Nasal sprays provide a way to send saline or medicine treatments directly to tissue in the nose, which increases the speed of the effects and decreases the side effects in the rest of the body. Most nasal sprays treat symptoms of allergies and colds, but newer developments have expanded treatment options with nasal spray application.
Steroid Nasal Sprays
Corticosteroids are frequently used in nasal spray formulations as treatment for allergy and sinus infections. Steroid nasal sprays reduce mucus and swelling in the nasal passages to improve ease of breathing. Common examples of steroid nasal sprays include fluticasone (Flonase), beclomethasone (Beconase AQ) and flunisolide (Aerobid).
Astelin Nasal Spray
Azelastine (Astelin) is a unique nasal spray treatment of allergies because it contains an antihistamine, which is the type of drug found in oral allergy treatments like Claritin and Benadryl. Astelin primarily reduces allergy symptoms of itchy nose, runny nose and sneezing. Although side effects are minimized by applying the drug directly in the nose, drowsiness is still possible with Astelin nasal spray.
Inhaled Insulin and Nicotine
Sometimes, drug treatments are developed for nasal use that seem unusual because they treat non-nasal problems. For example, inhaled nasal insulin studies have been underway since the early 2000s to identify whether insulin nasal spray can be as effective and safe as an orally inhaled insulin product, Exubera. In addition, Nicotrol NS, a nasal spray available since the 1990s as a prescription, is used by smokers who are trying to quit. By starting with one spray of nicotine into each nostril once daily, a smoker can slowly and directly decrease the amount of nicotine in her body and break the nicotine addiction.