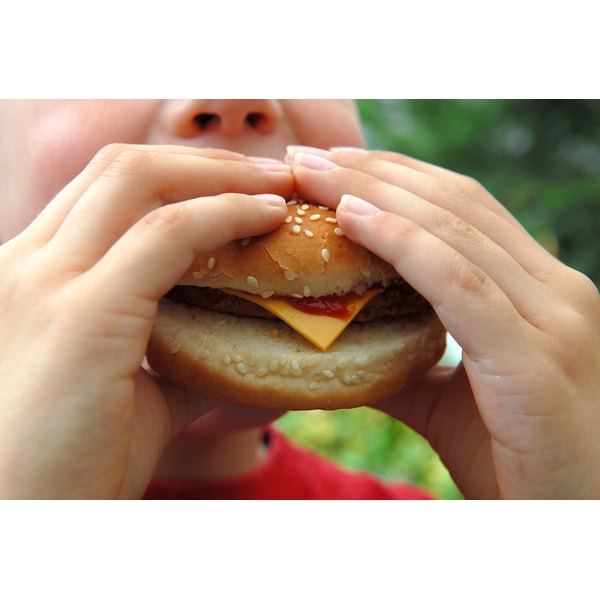 If you search for the nutritional information on a Big Mac Meal from McDonalds in the Daily Plate on LIVESTRONG.COM, you'll see that the full meal weighs in at 920 calories, 40 grams of fat and 49 grams of sugar. Are you surprised? Probably not, but did you know that increases in obesity throughout the country have been linked to increases in health care costs? Studies show that the increase in obesity, heart disease and diabetes from the consumption of fast food has led to increases in health care throughout the country. Read on to learn more about the connection between fast food consumption and the rise of health care costs.
Obesity-Related Health Care Costs
A 2004 study in "Health Affairs," conducted by Kenneth Thorpe and colleagues examined obesity-attributable health care spending increases in the United States between 1987 and 200, and found that increases in obesity prevalence alone accounted for 12 percent of the increase in health spending at about $301.
Increases in the proportion of and spending on obese people accounted for 27 percent of the rise in spending during the study period, while spending for diabetes increased 38 percent; hyperlipidemia increased 22 percent; and heart disease 41 percent.
Effects of Fast Food on Health
A 2005 study in the journal "The Lancet" investigated the relationship between fast food consumption and changes in body weight and insulin resistance in more than 3,000 adults over a 15-year period. They found that, "Fast food consumption has strong positive associations with weight gain and insulin resistance, suggesting that fast food increases the risk of obesity and type 2 diabetes."
A 2009 study from the National Bureau of Economic Research found that proximity to fast food restaurants affected obesity rates among 3 million school children and weight gain in more than 1 million pregnant women.
Public Policy Implications
The authors of the "Health Affairs" analysis suggest that efforts to control health care costs must address the rising prevalence and associated costs of obesity. The authors of the NBER study go so far as to propose that restricting access to fast food near schools could significantly reduce obesity rates among children.
Several public officials are addressing the need to set zoning restrictions around schools and lower income neighborhoods to help combat obesity. A recent CUNY report comparing childhood obesity in London and New York found that, "While childhood obesity affects all groups, it is becoming increasingly concentrated among low income children and neighborhoods in both cities," said lead investigator Nicholas Freudenberg of Hunter College/CUNY in a press release.
The study recommends changes in zoning, tax incentives, and city owned property to increase the amount of healthy food on the market.
Why Does Fast Food Get Such a Bad Rap?
Fast food tends to be high in calories, fat and sodium, all of which can contribute to obesity, heart disease and diabetes. Many fast food places still use trans fat in their foods, although it has been banned in a number of places across the country. Consumption of trans fat can raise bad cholesterol levels while lowering good cholesterol levels.
The Industry Sees the Need for Change
Most fast food chains now offer nutrition information for their offerings and guides to making healthier food choices. Organic and natural options have appeared on some menus, and several chains offering natural and organic fast food meals have sprouted up around the country.
With nutritional information widely available on the net with tools like the Daily Plate on LIVESTRONG.COM, fast food outlets now have a need to offer patrons healthy alternatives to their high-calorie, high-fat menu options.