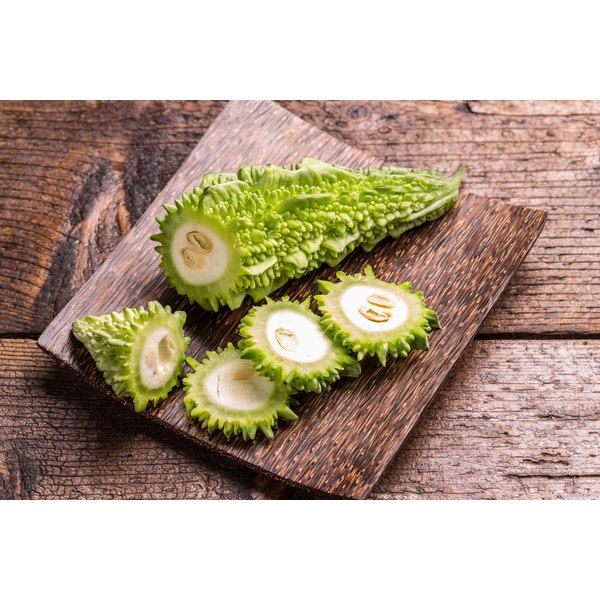 Bitter melon--also known as bitter gourd and balsam pear, botanically labeled Momordica charantia--is a member of the large family that includes squashes, melons and cucumbers. Native to Asia and Africa, it has long been valued medicinally for its purgative properties and in dishes for its bitter taste. This is important in Asian diets that balance all tastes within one dish. Research on its healing properties is not new but is promising, and is drawing the attention of Westerners.
Vitamins and Minerals
Bitter melon nutrition is quite good when compared to more well-known fruits such as cantaloupe. Very bitter because of the cucurbitacins, the fruit is blanched or soaked in salt water to reduce the bitterness, then pickled, stir-fried or stuffed. The bitter gourd or melon is a good source of iron, magnesium, phosphorus, potassium, pantothenic acid and vitamin B-6. Bitter melon has 13.4g choline (to cantaloupe's 11) and at 63g has twice the folate of cantaloupe. Lutein, a crucial component of healthy skin, eyes, nerves and hair, is at an unbelievable 1,641g (to cantaloupe's 41). The fruit, shoots and flowers are eaten as greens, and are high in calcium, carotene and riboflavin.
Positive Effects on Blood Sugar
Bitter melon has strong hypoglycemic properties (its ability to reduce blood sugar levels), which can result from eating the cooked melon, drinking the juice or taking powdered extracts. Many studies conducted in Asia, starting in 1942 at the University of Sri Lanka, have shown that bitter melon contains an insulin-like compound and is an effective treatment for some cases of diabetes.
Anti-inflammatory and Cancer Fighting Capabilities
Perhaps the most exciting research on bitter gourd's healing capacity comes from a 2003 study at the Department of Food Science and Nutrition in Kyoto, Japan. According to faculty in the Department of Food Science and Nutrition at Doshisha Women's College of Liberal Arts, dietary bitter gourd induced "changes in systemic immunity, i.e., a decrease in the number of lymphocytes, increases in the populations of Th cells and NK cells … Dietary butter gourd may therefore induce both intestinal and also systemic anti-inflammatory responses."