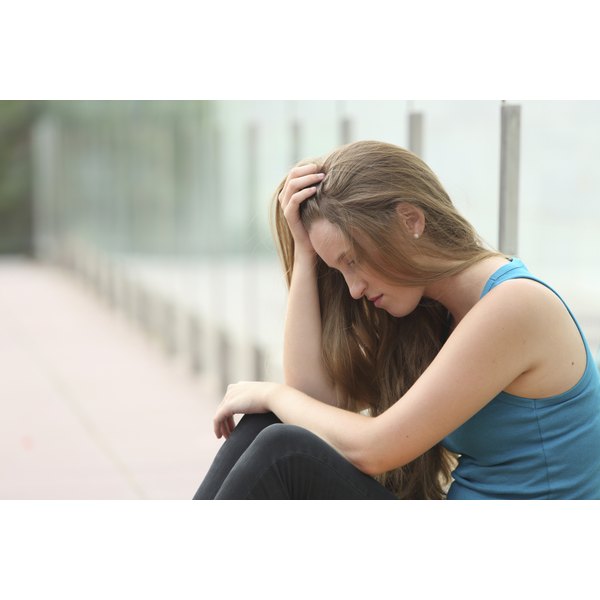 Several studies suggest that chromium picolinate supplement, a mineral that naturally occurs in whole grains, liver, mushrooms and other foods, can significantly improve some symptoms of atypical depression. According to DepressionPerception.com, atypical depression is a common form of depression, affecting about 40 percent of depressed people. Chromium picolinate appears to reduce several symptoms of atypical depression, including carbohydrate cravings and mood swings.
Atypical Depression Symptoms and Treatment
Atypical depression has symptoms that include excessive sleep, hypersensitivity to rejection, carbohydrate craving, overeating and mood swings. You may feel so physically weighted down that you don't think you can get up out of a chair, according to Psychology Today. If you suffer from atypical depression you can be cheered up on occasion by your circumstances and life events, which is not easily done with other types of depression. Atypical depression responds to monoamine oxidase inhibitors, or MAOIs, a class of antidepressants that has adverse side effects such as sexual dysfunction and weight gain. These side effects often dissuade patients from continuing treatment.
Chromium Picolinate and Insulin
Studies dating back to the 1970s have established that chromium picolinate can be helpful in the treatment of insulin insensitivity and diabetes. Normally, blood sugars trigger the release of insulin by the pancreas. Insulin helps the cells absorb and then metabolize blood sugars, transforming the sugars into cellular fuel, and feeding the brain with a supply of glucose to maintain optimal functioning. Chromium picolinate enhances the efficacy of insulin in aiding the absorption of blood sugars. It is not known precisely how insulin is involved in depression, but the rate of depression is twice as high in people who have diabetes compared with the general population. One link between insulin and depression is that insulin is involved in producing various neurotransmitters, which are brain chemicals, such as serotonin, that are involved in communications among brain cells. Serotonin regulates mood, decreases appetite and enhances calmness.
Chromium Picolinate and Depression
Several studies have found that chromium picolinate improves symptoms of atypical depression. For example, the 2005 issue of the "Journal of Psychiatric Practice," reports a study of 113 people with atypical depression. Patients who received a 600 milligrams supplement of chromium picolinate had significant improvement in symptoms compared with the placebo treatment group. Particular symptoms were most responsive to the chromium picolinate, including mood swings, fatigue, carbohydrate cravings and perception of weight gain. Patients who took the dietary supplement did not report side effects.
Carbohydrate Craving
In another study cited in a 2003 "Biological Psychiatry," this one out of Duke University, it was noted that patients who had been overeating before starting the study experienced the most significant benefits in suppression of appetite and carbohydrate cravings. While improvements in mood swings and in carbohydrate cravings are found consistently, further research will be needed to determine whether larger dosages of chromium picolinate will affect overall depressed mood and other symptoms of atypical depression.
Safety Concerns
There are some risks associated with chromium picolinate. Research on hamster and rat cell cultures has suggested that chromium picolinate might cause oxidative stress and DNA damage. The effects of oral consumption by humans are less well understood. There are not frequently reported adverse affects with short term use of chromium picolinate, and there is limited information on the safety of long term use of chromium picolinate. Talk with your doctor before taking chromium picolinate.